RECORDINGS
Climber
"Virginia Heart Attack"
Learning Curve Records

Local rockers Climber produce a fine EP with "Virginia Heart Attack." The problem lies in the fact that the disc clocks in at less than 15-minutes for five tracks. Long songs these are not. Entertaining ones, they are.
Climber, on the scene for a couple of years now, is made up of: guitarist/vocalist Heather Dahl; bassist/vocalist Julie Butler; drummer Theodore Moll; and guitarist Joey Renza. Combined, they put together a nicely charged racket that's got hints of wave and pop-punk, along with a pinch of emo. (Luckily, just a pinch.) Splitting vocals between the two frontwomen, the band is a solid unit with a confident live show.
This disc, their first to be distributed on a regional/national basis, will hopefully solidify a base for them beyond their small, local following. Pick this one up at a local record shop, or via the band at a show. It's worth the $6 and then some. You can also find some alternate takes and older cuts via MP3s on their rather impressive website.
ZINES
"Head in a Milk Bottle"
Vol. 2, Issue 1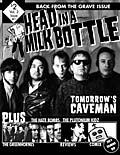 It's been noted around town for a while: the zine-per-person ratio is rather slim in St. Louis. You've got plenty of bands, a good share of venues, creative people working in a variety of alternative arts settings. But getting the thoughts down on old-fashioned paper is something that's been lacking.
"Head in a Milk Bottle" is a revived zine, brought back to print after an extended absence. As you can tell from even a cursory glance at the cover, "Head" is dedicated to primal rock 'n' roll, a sort of print equivalent to KDHX radio shows like "The Wayback Machine" and "Scene of the Crime," with lots of garage, raunchy pop and punk coverage. In fact, the primary hosts of those two shows — Kopper and Jason Rerun, respectively — contribute pieces. Rerun's take on classic St. Louis punk and rock 45s, compilations and tapes is an essential read. Local groups, like the coverboys of Tomorrow's Caveman, are also well-represented and Matt "Bug" Meyer's recollection of discovering the Ramones is a keeper.
Whether or not the styles of music are your cup of tea, it's great to see a well-designed zine with fun, passionate content "debut."
FILM
"Palindrome"
St. Louis Art Museum
Friday, August 3
The scene was pretty intense. "Palindrome," a 22-minute short film from 1969, began playing in front of the 1966 cult classic, "Blow-Up." The audience was pretty sizable. Settled in for an alternative slice of filmmaking, the assembled couldn't handle what they were given.
Cobbled together from multiple sources of found footage, the silent film ran in a highly regimented fashion. An image was captured for a few seconds; it was followed by a run of 10-12 other images, spit out rapidly; then the screen would go black, briefly. The same trick was used again and again and again to the delight of a few and the agitation of many.
It didn't take long for nervous laughter and guffaws to break out. Open, loud talking began soon enough, followed by the "sssh" of a handful of audience members. One hysterical laugher started up in a corner, setting off titters over there. A distressed fan down front told people to leave the theater if they couldn't watch their mouths. The tension in the room grew and grew, attendees becoming agitated until the conclusion of the film which, truth be told, didn't seem as long as 22 minutes.
Maybe it was just the sense of following what was happening in the audience, rather than on-screen, that made the flick pass by so quickly. It was really something else, a reaction that you wouldn't find at your local multiplex in a dozen years: an engaged audience.