The fountain danced to Sinatra singing New York's praises. Everyone stops to look at the fountains in front of the Bellagio. It doesn't matter if it's your first or fiftieth visit to Las Vegas. You always enjoy the fountains.
"So what's this Texas Hold'em?" I asked my friend Brad. "I've heard a lot about it."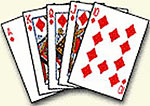 "It's seven-card poker, where you're dealt two cards face down and the remaining five are dealt face-up. You use them as community cards and try to build the best five-card hand you can," he answered.
And it must have been fun, because we didn't see much of Brad that weekend. While we languished by the pool or explored the Strip by daylight (not nearly as impressive as at night), he played poker. Hold'em, to be exact.
Fast forward approximately 15 months.
I'm staring down the table bully. He'd been buying pots all night and chasing people out of hands — and playing total crap hands. My plane touched down three hours earlier, and after a cab ride and a sprint to the hotel room to drop off my bag, I was on my second beer, happily seated in the Excalibur's poker room.
I finally caught a playable hand, and aimed to make him pay. Two nines peeked up at me from the hole. I limped into (made the minimum bet) the flop (the first three face-up cards) and saw my third nine. I had him. The players at the table checked (passed the bet); I did the same, waiting, hoping to trap him.
And, of course, my target bets. So I raise him, making a nice check raise. Everyone else was out of the hand at this point, leaving us in a heads-up contest. We raised each other to the betting limit, and a second four fell on the turn (the fourth face-up card, a.k.a. fourth street). I now had a full house and couldn't lose the hand.
My opponent didn't realize this, and continued throwing money at me, trying to chase me out of the pot. After the river card (the fifth — and final — face-up card), we turned up our hands, and sure enough, my full house beat his two pairs handily.
"Nice hand," he said. "You had me completely fooled."
I thanked him as I stacked my chips, trying to keep the smile off my face.
So how is it that a game that at one time was the bailiwick of thieves, cutthroats and murderers has become the hottest game in the country right now?
"It lets people who would have never met come together," says Kristan Delgado, co-owner of The Poker Pub, a company that sponsors local Texas Hold'em daily at local bars.
The Poker Pub started nine months ago in Lawrence, Kan.; the brainchild of two Kansas graduates who enjoyed the game. It spread to Kansas City, where the tournaments draw 16 tables of players — and a waiting list — nightly.
Delgado and her husband, Tom Delgado, started the St. Louis branch after visiting her brother's bar in Kansas City. The first tournament started three months ago, and it's been growing ever since.
"The one thing that attracted me to the game was this is the first truly social thing I've done in a bar," says Kristan. "It's turned into a strong little community."
Players range in age from 21 to 84. One of their regulars, Wilma, is 68; she drives in weekly from Dupo, Ill. "We've had several couples and one engagement," says Kristan, speaking to the social aspect of the game.
And this is an important difference than the poker you might see on television. While there is laughing and banter at the World Series of Poker tables, there's also $5 million on the line, so you're bound to feel a little pressure — especially after you've put up $10 thousand to play in the game. Poker Pub games are free, but there are rewards.
The weekly tournament winners win prizes, and they win a seat at the Tournament of Champions. The winner of that tournament wins a trip to Vegas and a satellite seat (a chance to win the buy-in) for the World Series of Poker.
But even though the stakes can be high, people come in to enjoy themselves. "We want to provide a social atmosphere; you come in, have a few drinks and have fun," says Tom. Even the advanced players help out the beginners, and there are plenty of new players.
"Fifty percent of our players have never played before. They came in timid, but we help by coaching new players," says Kristan. These new players are men and women of all ages. Neither age nor gender determines how good a poker player someone can be.
"The first time we were exposed to this, there were 13 tables. Two of them had 50-something women at them with huge stacks of chips, and they were surrounded by frustrated guys," says Tom.
And there was a lively crowd at Lemmons, playing poker at six full tables, with people filtering in, hoping to play in a game. Most of their venues fill between 6 and 12 tables nightly. But can this momentum last? Poker is popular right now, but is this just a fad running on fumes?
"People claim this is the next bingo. I don't know if it'll go that far," says Kristan. In any case, Poker Pub continues to expand, with branches opening in Chicago soon.

So after spending a night watching poker on television (which is something I've done), are you thinking you're ready to be the next Greg Raymer or prepared to face down Phil Hellmuth? Well, you'll need a little experience first. Fortunately, there are options available to you.
PokerPub sponsors games nightly around town; they're free and a good place to learn how to play. Many local casinos — Harrah's, Ameristar and the President — have opened poker rooms as well, but those games are not free. You can also play online for free at one of several sites like Pacific Poker or Party Poker.
I don't know how long the current poker craze will last. All I know is that I've found a game that took about five minutes to learn the basics, and I'm still learning more about it all the time. Many pros — who have played most of their lives — say the same thing.
Given my results in Vegas, I don't think I'll be going pro anytime soon — that is, if I want to keep eating. But any game that causes your heart to pound, waiting for that final card to drop to see if you have the best hand or the second best, is just as exciting as any football or baseball game — without the sweat or exertion. It's a game anyone can play.
Brian McCown works as a technical writer by day; by night, he dreams of winning the World Series of Poker. Or just catching three more hours of sleep. Either one is fine by him.