More than usual, this year it seems like I've heard a lot from folks about their (and other people's) New Year's resolutions. I always suspect people are lying who claim they "don't do resolutions"; even if they're not written down on little wish strips to be burned up in a purifying sage fire, the beginning of a new year (arbitrary, sure, but that's how we play the game, kids!) offers an appealing clean slate for just reprioritizing one's, uh, priorities. Around our house, this year brought some pretty concrete goals:
Continue being fabulous
Make 2005 the Year of the House (big plans, we have) and
Keep up with the kids' new music. Actually, this one is more my husband's, but it's already led him down a strange, strange path, where robot-voiced drones sing about bunny rabbits, Satan, cheese and milk.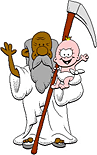 The Commonspace checked in with some of the city's aldermen for their pledges; based on the response, we think many should renew their commitment to checking e-mail! But you can learn a lot from just a few words from your elected officials.
"One of my New Year's resolutions was to eat healthier and get more exercise — we're a little bit over two weeks into the new year and so far I'm on track, but you may want to check back in a couple of months! So far, so good."
— Matt Villa, Alderman, Ward 11
"I am embarrassed to admit that I made none. I wish I could say that by keeping all the prior ones, I'm now perfect — but I'm sure my wife and kids will agree that's far from the case."
— Joseph Roddy, Alderman, Ward 17
"I made a New Year's resolution to do more in 2005 by working harder and smarter than before. It is working well so far and hopefully it will continue throughout the entire year."
— Michael McMillan, Alderman, Ward 19
"I guess I'm not very much fun: I do have short-term and long-term goals, but they are not chronologically based. January 1 is a man-made creation without any basis in reality. Maybe that's why so many resolutions that are based on this 'non-reality' never become a reality."
— Craig Schmid, Alderman, Ward 20