CIVIC ENGAGEMENT
Election Day Canvassing, City of St. Louis
November 2
If you're ever feeling uncharitable towards your community, your city or your fellow man, I recommend going door to door in the service of a cause: in this case, I and a carload of other volunteers were dispatched to near-Downtown St. Louis, to knock on doors in neighborhoods both familiar to me (Soulard, Lafayette Square) and less so (LaSalle Park, King Louis Square), to exhort folks to remember to vote. At houses where there was someone home to answer the door, folks were exceedingly friendly and most were also aware of the importance of the franchise: if they hadn't already voted, they planned to shortly. In the housing project developments, lots of kids who were home from school in the afternoon tagged along behind us, telling us about the Kids Vote! Projects they'd participated in and how they couldn't wait 'til the next day to find out who'd carried their school. As a bonus, we got to scope out lots of beautiful homes and parks, up close and personal. Door to door: any politician will tell you there's nothing like it. (AED)
LIVE SHOWS
UMSL Jazz Ensemble 100th Anniversary Tribute to Count Basie, Touhill Performing Arts Center
November 10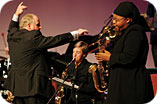 Too bad the news has been mostly negative of late on the TouPAC: it's a spectacular performance space, even when you're relegated to one of the side theaters, as an overflow crowd was for this tribute concert. Jim Widner, an accomplished bassist in his own right, directs the UMSL Jazz Ensemble, and spent some time exhorting young musicians in the crowd to consider his school for their continuing education. (In fact, his folksy ramblings were just this side short of too much, but his students and their families in the crowd seemed to love him.) The highlight of the evening, though, was special guest and former member of the Count Basie Orchestra Byron Stripling, a master trumpeter who also trotted out better-than-passable vocals on a few numbers. Stripling cajoled UMSL chancellor Tom George out to tickle the ivories, and we wondered if George's talents aren't being wasted in academia. Just another reminder of all the magnificent culture — much of it free — available out there for those who seek it out. Keep up with future ventures of the UMSL Music Department here. (AED)
BREAKDANCING
Settle the Score 2004, A.D. Brown building
November 13

The noize was brought, boyz and girlz, by b-boys and crews from Chicago, Kansas City and beyond, for this multi-hour dance-off presented by Digitronical — a crowd of about 300 (ebbing and flowing over the course of the afternoon-into-evening) included suburban soccer moms and their broods, downtown dwellers, hard-core dancers and hard-core posers and just about everyone else you could imagine. Taking home top honors: Jigsaw, from KC, won the one-on-one funkstyle battles, and Chicago's Brickheadz danced away with the three-on-three honors. Keep an eye out next year for the official event DVD. (AED)
DINING
Eat Me in St. Louis: Tales from The Dinner Club
Iron Barley Eating Establishment
5510 Virginia
351-4500
www.ironbarley.com
The first thing you will notice about Iron Barley is the warm atmosphere. Warm because the staff is friendly and there are regulars they know by name; the space is cozily limited to a small dining area and bar; and there are trinkets on the walls like those you might find at a Cracker Barrel (except these aren't cheesy) that provide a homey feel. Warm also because there is no air conditioning (some ceiling fans), and after having received Sauce Magazine's Readers' Choice Award for Best-Kept Secret (not anymore), the place was packed on a hot Friday night in July.

Our Club numbered seven at the time of voting (Iron Barley received three votes, so Readers' Choice Awards really do work even if everyone does them), with an eighth joining us later, so our size allowed us to belly up to the bar while waiting for a table. The wine selection is decent and there were eight taps running, mostly with microbrews, including three Schlafly taps (none of which was Pale Ale) and two New Belgium taps (neither of which was Fat Tire). Jen, co-proprietor with Tom (who is listed on the website), answered our various questions, and told us that there are plans to add a microbrewery in a few years — the equipment has already been purchased, but there are many hurdles to be jumped in the process. Seeing my scribbling and inquiring about our inquisitiveness (which really just comes naturally), Jackie the bartender pointed to a picture on the wall featuring a group of local rehabbers who frequent the establishment, one of whom I recognized from the old Metropolis days.
The food was good and seemed like homemade. Appetizers included BBQ Shrimp, which were tangy, oysters described as "smoky," Slammin' Clam Chowder (which contained salmon), and potato pancakes. These were passed around and enjoyed by all. Entrees included prime rib ("pretty tasty"), salmon salad ("where's the salmon? — all I see is lettuce"), reuben ("pretty good"), schnitzel, veggie pasta (which you can order with shrimp or bacon and chicken), and beef tenderloin. Lots o' meat, including the veggie pasta. As one person indicated, all dishes were made with love, even though some were better than others. Dessert was not ordered, but Iron Barley does feature Blaster chocolate pies in the additional flavors of banana, pear crunch, and peanut butter. They looked huge and yummy.
In addition to items mentioned above, Iron Barley offers all types of "sammiches," including the Ballistic Elvis Sammiche, which had such a lengthy and bizarre list of ingredients, you have to go to the restaurant to discover their popular secret. One very important item to note: leave your plastic at home — Iron Barley does not take credit cards.
Eat City.
(JJG)
(Ed. note: Iron Barley now has air conditioning and accepts credit cards.)