Wednesday, December 1
Strange Brew Cult Films: "Strictly Ballroom," dir. Baz Lurhman
Schlafly Bottleworks, 7260 Southwest in Maplewood
$4, 8 p.m., www.webster.edu/filmseries.html
From the mind that later brought you a tubercular Nicole Kidman at the Moulin Rouge, this 1992 flick from Down Under started as a stage musical: it tells the stories of rival ballroom dancers, and of course, the bad boy (in this case named Scott) who comes in to shake up the system. Boy gets paired with dorky girl, boy teaches her the ways of the forbidden dance of love, and passion — and fab dancing — ensues. And you can drink beer!
---
Friday, December 3
Dave Drebes Players
Hartford Coffee Company
Free, all ages, 7 p.m., drebesd@yahoo.com
If you've never been treated to the song stylings of the DDP, you're in for a treat as they take the "stage" for their annual Christmas show; frontman Dave Drebes plays keyboards and sings, Fred Hessel plays guitar, Jenna Bauer plays the big-mouth bass, and Kurt Groetsch plays guitar and rides herd, a.k.a. serves as musical director. The big news this year? A "mystery guest" on drums (we're wondering if they yet know who that is) and the big opener, 19-year-old Caleb Engstrom.
---
Saturday, December 4
Art Opening: The Group Holiday Exhibit
Houska Gallery, 4628 McPherson Ave.
Free, 6-8 p.m., 314-454-0959

Into supporting St. Louis artists? Plenty of birds with one stone at this stop on tonight's Central West End gallery walk: those represented include Michael Hoffman and Alicia LaChance, Julie Malone, Justin Tolentino and many more. You can also revel in Charles Houska's pop art, on permanent display in the downstairs space.
---
Saturday, December 4
Art Opening: Cycling Photos
Big Shark Bicycle Co., 6133 Delmar in the Loop
Free, all ages, 6-10 p.m., 314-862-1188
Should one shoot and cycle at the same time? Safety issues aside, the aesthetic output says "yes," as six local photographers (Matthew James, Daniel Elavsky, Phillip Shoulberg, Kim Morris, John Mussleman and Matt Cazalas) capture the spectrum of the local and statewide cycling scene, in media from projection to gelatin silver prints. We hate to focus so much on beer, again, but, uh, the exhibit's refreshments are co-sponsored by New Belgium Brewing Company. Cycling and beer go together like PB&J.
---
Wednesday, December 8
Concert: "Baby, It's Cold Outside"
Sheldon Ballroom, 3648 Washington Blvd.
$15, 8 p.m., 314-531-1111, www.thewapp.com
The newish Washington Avenue Players Project raises funds for its urban collective with a two-night stand cabaret concert of Broadway and Hollywood chestnuts, and — this we like — "a touch of comic spice." Is that like Old Spice? In that case, a touch may be more than enough...but we trust the deft hand of artistic director Todd Schaefer, so we'll not worry. A jazz combo plays behind local luminaries Mo Monohan, Angela Schultz, Vernon Goodman, Schaefer himself and more, all in the glamorous atmosphere of the Sheldon ballroom.
---
Thursday, December 9
"Hooch and Daddy-O" Premiere
Tivoli Theatre, 6350 Delmar in the Loop
$8, 7:30 p.m., hndmovie@yahoo.com, www.hoochanddaddyo.com
Suspend your disbelief for just a moment and recall that fabulous t.v. cop show, "Hooch and Daddy-O," that was on in the early 1980s. Remember that one episode, "When a Dead Cop is Not"? Well, that's the frame of mind you'll need to get into for the cast's big reunion movie, "Hooch and Daddy-O," from the twisted geniuses behind Magic Smoking Monkey Theatre and other such dubious projects. If you've enjoyed the recent reunions of "Dallas" and "Seinfeld," you're primed. It's the best reunion ever of something that never was!
---
Friday, December 10
Art Opening: Fortune: Then & Now
Gallery at the Regional Arts Commission, 6128 Delmar
Free, all ages, 5:30-7:30 p.m., 314-863-5811 x 24, jen@stlrac.org
Stick around St. Louis long enough, and you'll hear tales of Mark Twain Bank and how it drew young talent from far and wide to St. Louis — many of whom went on to become the civic and economic movers and shakers of today. Its chairman, Adam Aronson, practiced a kind of creative capitalism, including bringing artists, carpenters, cabinet makers and designers into the fold of the Fortune Bank Building Design, which produced much of the hardware and art that filled the interiors of the bank's new branches. This reunion show celebrates the work of 18 of those artists and their unique role in the city's history.
---
Friday, December 10 through Friday, December 31
Radio City Christmas Spectacular, featuring the Rockettes
Fox Theatre, 527 N. Grand in Grand Center
$21-$62, numerous showtimes, 314-534-6622, www.fabulousfox.com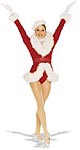 Here's one for your next trivia night: the now-world-famous, high-kickin' Radio City Music Hall Rockettes got their humble start right here in old St. Lou, when a 16-girl (and yeah, we're sure they were called "girls," or more likely, "gals") dance troupe called The Sixteen Missouri Rockets were recruited to perform up to four shows a day, seven days a week — for the princely sum of $35! — at the Missouri Theater, located in the early part of the 1900s at Grand and Lucas. The gals and their gams were so popular that they went on tour, and once New York saw 'em, they never came back to the farm. Go welcome the high-kickers home, won't you?
---
Saturday, December 11
Stella Burlacu Kick-Ass Awards
Gallery Urbis Orbis, 419 N. 10th St.
$3, 6:30 p.m. doors/7 p.m. awards, 314-776-6929, thomascrone@yahoo.com
Ever run across someone unforgettable, just in the course of your everyday travels? Austin writer Spike Gillespie did, in the form of Stella Burlacu, a waitress at a St. Louis coffeeshop who came to exemplify those unsung heroes who form the strong backbone of our communities. Gillespie designed a trophy — a horse's rear fused with a karate master, of course — and honored some deserving folks in Austin. This year, the show goes on the road to St. Louis, and you'll want to be there to give our own local heroes (from artist Terrell Carter and coffeeshop proprietress Mo Costello to Luigi the flower vendor and Fort Gondo Compound for the Arts a hand-clap and their moment in the sun for all they do to enliven the life of our city.
---
Wednesday, December 15
Reading and Signing: "Unending Struggle: The Long Road to an Equal Education in St. Louis," by Susan Uchitelle and Gerald W. Heaney
Central Library, 1301 Olive St.
Free, 4 p.m., 314-539-0348
Lord knows we could all stand a little more understanding about how the St. Louis schools came to be in the sorry shape they're in (current school board woes notwithstanding): Dr. Uchitelle and Judge Heaney trace the long arc of the desegregation of the public schools, and judge its success through the eyes of students, teachers, administrators and public officials who participated in the process. Should be a fascinating lens through which to understand the ongoing problems of today.
---
Saturday, December 18
Sing Out St. Louis
Union Station, 1820 Market
Free, all ages, 4 p.m., 314-421-6655, www.christmasinstlouis.org
So, in case you hadn't noticed, Christmas is coming up (in case, for example, you haven't been in a store since Arbor Day); before you drown in all the non-reasons for the season, come enjoy a non-commercialized afternoon of song, hot chocolate and cheer. This is the 20th year for the outdoor party that features area bands and you, the choir.
---
Saturday, December 18
An Evening of Music and Glass: Crossings Holiday Show
3rd Degree Glass Factory, 5200 Delmar
$12 students/$27 general, doors 7 p.m./music 8 p.m., 314-721-8940, www.crossingsconcerts.org
Crossings is so nontraditional, they're not even nontraditional: they're "untraditional," as they say. Dedicated to presenting challenging concerts of established repertoire and new work in unusual spaces, the company has been doing their thing for just over two years now, and have already generated great buzz for their efforts. What better way to celebrate, or perhaps get your first taste, than at this annual holiday soiree at the always tantalizing Third Degree Glass Factory? Even better, the performers this year include favorites of The Commonspace Farshid and Ali Soltanshahi, of the renowned group Farshid Etniko. Come early for glass-blowing and glass-buying opportunities. Oh, and drinks. We're all about drinks.
---
Sunday, December 19
Winter Solstice Sunrise Observance
Cahokia Mounds, Collinsville Rd. off I-55/70
Free, all ages, 7 a.m., 618-346-5160, www.cahokiamounds.com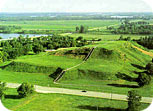 Here's one reason I could never be a full-on Earth Mama: I don't really like to get up early. But every year the solstice celebrations at Cahokia Mounds do tempt even a slug like me: start the winter off with a clean mind and spirit, and get that nice self-righteous feeling that comes when you've been up for hours before the rest of the world. And don't be afraid that you'll have to handle snakes or something: you'll be treated to an explanation of the discovery and function of Woodhenge.