1. Have you long been known in your family as little Marijean, inveterate shopper?
Mom raised me to be a shopper. I grew up with the "look for it three places, and buy it for the best price" rule. One of the ideas behind this is that if you still want whatever it is by the time you're done doing your homework, then it's probably worth buying. I know I caught the bargain bug as a teenager, combing yard, garage and estate sales for my Madonna wanna-be rhinestone wardrobe.
2. How does one get a gig writing about shopping? Do you have to show seven year's worth of receipts as qualification?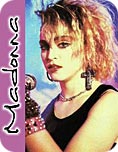 I have worked for or represented retail organizations for the past 14 years, so shopping, from a sales/customer service standpoint and from the consumer standpoint, has been a longstanding interest of mine. I went to the Post-Dispatch with an idea for a shopping/consumer critic column and the idea evolved into Shop Talk. I grew up in a town where going to the mall was a major source of entertainment so I think the total time I've logged in malls is roughly equal to the time I've spent in classrooms.
3. What's your favorite thing to shop for?
I love to buy presents for other people! Even if they're just little just-because-it-made-me-think-of-you gifts, not, you know, faux fur coats and diamonds, I get a charge out of gifting friends and family.
4. Do you get a shopping expense account? If price were no object, what's the first thing you'd run out and buy?
Sadly, I don't have a shopping expense account, so I have to really rein myself in while doing my "research." If price were no object I would buy a really obnoxiously priced pair of salon shoes that I'm sure I would wear only about twice.
5. Let's get some recommendations: best single shopping neighborhood?
I guess it depends what you're shopping for. I very much enjoy The Loop for funky gift buying, Main Street St. Charles for holiday decorations, and Kirkwood for home décor and accessories. The challenge is finding a favorite stop in each neighborhood.
6. Best place to find a gift for your trendy tween niece, your meat-and-potatoes husband and your Promise Keeper uncle, all under one roof?
Head for a bookstore! My top recommendation is Left Bank Books. I enjoy buying books as gifts and could easily get a whole shopping list taken care of with reading material.
7. Your single best shopping score ever?
Oh, there are so very many! I bought my $400 dishwasher for $150 as a discontinued floor model, and that rocked. I always feel pretty good if I can walk out of a store with piles of merchandise knowing that I saved a bundle.
8. Online versus bricks-and-mortar: where do you come down?

I buy a lot of stuff online. Almost all of my clothing I buy online, but for the browsing, tactile and people-watching experience, you can't beat the in-person retail environment. I'm not freakishly tall, but just tall enough that buying clothes in a bricks and mortar store is an experience I refer to as "shopping with the cross-dressers," due to the fact that most stores that cater to women over six feet tall have an unusually large collection of size 14 pumps, lots of sequiny ensembles and gorgeous wigs among the extra long jeans and tops. Nothing like bumping into a guy in the same outfit you're wearing, especially when he looks better. Sigh.
9. What's your secret (or not-so-secret) shopping vice, the thing you can always justify buying just one more of?
Beauty products! I'm no diva, but you'd never know it from my girly collection of bath salts, lotions, makeup, scents and hair products.
10. As you know, I write about shopping in my day job for Where Magazine; do you ever read my awesome blurbs and think, "Damn that industrious Amanda! She scooped me again"?
You write about shopping too? I had no idea ... seriously, though, yes, it has bummed me out when a shop owner has said, "Oh, Amanda was just here. Do you know her??" Ack! Foiled again!
11. Best and worst things about St. Louis?
Best: Accessibility — it's simple to get around and visit a number of different places in a short amount of time, and parking is largely free.
Worst: Downtown is not a shopping destination, which is sad. I would love to see a revitalization of downtown including some great trendy shops and eateries.
Marijean Jaggers is probably out getting your deal right now.