Every year the summer months represent a challenge for many area families. School is out until the fall and parents face the annual task of finding a safe and worthwhile experience for their children. Many options exist, everything from math camps to athletic camps to things such as summer school, but few options focus on preparing young at-risk middle-school girls to become the leaders of tomorrow.
Working to develop tomorrow's leaders is a priority of the YWCA of Metro St. Louis. For more than a decade, teen girls aged 9 to 16 have attended the YWCA's YW-Teens Summer Program to learn, to grow and to develop their own unique set of talents and skills. The ten-week program offers young women a structured, progressive series of positive activities and experiences within three major components: leadership development, economic empowerment and cultural awareness.
New to this summer is a special program called SistaKeeper. Over the course of six weeks the young women in the YW-Teens Summer Program participate in a series of workshops provided by the SistaKeeper Empowerment Center, a non-profit organization dedicated to working with young women to empower them, inspire them and help develop their minds, bodies and spirit.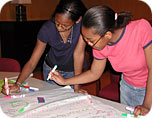 "SistaKeeper was started to empower young sisters to develop a positive inner-self awareness that reflects a positive outer image," say SistaKeeper Empowerment Center founders Tracie Berry-McGhee and Nichelle Orange. "Knowing who you are, what you believe in and what you stand for are all important ingredients in the development of all of our young women. We believe it promotes sisterhood, the acceptance of others and a sense of knowing your responsibility to your community."
"Our objective is to utilize our curriculum to work with other organizations with similar goals so that collectively we can all help to promote diversity, build self-esteem, decrease teen pregnancy, increase HIV/Aids awareness and mold our future leaders through various forms of literacy; specifically poetry, journaling and creative expression."
The six-week workshop series consists of topics ranging from character building to body image to community awareness and leadership. The girls spend time in sister-circles, where they discuss character awareness, peer pressures, responsibility to self and their communities through open discussion, journaling and spoken word, an activity to empower the young women to express themselves written and orally.
For 10-year-old Ajhia Ellis, a first-year YW-Teen participant, SistaKeeper helps her to understand and appreciate others' life experiences.
"When we talk in the sister-circle we experience the lives of different girls," Ajhia says. "We learn about others. I'm so used to my mama and daddy saying things, but SistaKeeper allows me to share and hear with others like me."

For many of the participants in YW-Teens, especially the younger girls just beginning in the program, SistaKeeper helps to bring them closer together and to accept and understand one another for their differences and similarities. It also helps them to learn to express themselves as a positive individual.
"The spoken word is my favorite part of the program. I get to express myself through poetry and I know that what I say will stay within my group of sisters," says Sha'Mell West, an inquisitive 11-year-old YW-Teen.
Ten-year-old Maya Mason adds, "I'm learning to be more respectful, to be nice and to be more at peace with myself and others."
The YW-Teens program strives to identify new and innovative offerings for the participants so that opportunities are always available for personal growth.
According to Wendi Glass, YW-Teens Program Director, "SistaKeeper was an ideal addition to our program. Its focus on self-esteem and self-expression is directly in line with our mission of leadership and character development. There are very few programs that cater so well to our philosophy and our ambition for the girls."
In addition to SistaKeeper the YW-Teens Summer Program also includes many other worthwhile experiences for the girls.
"We've really put a big focus on financial management and entrepreneurship," says Glass. "Since we've had so much success with our Gyrlz Biz Club, a business club for teen girls operated during the school year to develop and implement basic business plans, it made sense to expand on that offering during the summer. It is very important that young women learn the importance of money management, how a bank account operates and how to spend money wisely. All of these attributes will help to empower the girls economically as they get older." As with all YW-Teens programs, the goal is stimulate academic excellence and independence of thought while helping to produce responsible and confident leaders.

The YW-Teens Program consists of six curriculum based leadership development opportunities for girls nine to 18. Led by the widely-recognized T.O.O.L.S. program, an acronym for Turning On Our Leadership Skills, and the Summer Program, YW-Teens opportunities also include T.L.C. (Training in Leadership and Careers), a mentoring program for high school girls; L.I.F.T. (Leaders investing in the Future of Tomorrow), a program geared toward providing job skills and training in conflict resolution, activity planning and business etiquette for young women; Gyrlz Biz Club, a program to provide entrepreneurship education to girls; and the annual Young Women's Leadership Conference, a conference which brings together 8th and 9th grade girls from throughout St. Louis City and County to participate in interactive workshops and discussion forums on topics relevant to young women.
To learn more about the YWCA's YW-Teens Program please contact Wendi Glass, YW-Teens Program Director, at (314) 531-1115 or visit the YWCA website at www.ywcastlouis.org.
Josh Paul has worked with the YWCA of Metro St. Louis for two years. He resides on the EASTSIDE.