The Spanish poet Federico García Lorca often wrote essays about something called duende. There's no real English translation for this word; it literally means "deep song," but perhaps a better translation is "soul." True flamenco is bursting with duende. Sigue Sigue Sputnik may be the only musical act in history who had no duende at all. It has been described as a spirit or a mystical quality that allows a flamenco guitarist or dancer to put a spell on an audience, or to evoke a haunting, bottomless nostalgia that feels as old as the moon. As Lorca himself explained:
Every song
is the remains
of love.
Every light
the remains
of time.
A knot
of time.
And every sigh
the remains
of a cry.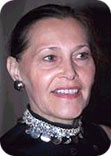 Marisel Salascruz has a lot of duende. You can feel it the moment you cross the threshold of her South City house, even when there is no dancing or singing going on. Salascruz is the artistic director of St. Louis Flamenco, and tonight is Wednesday, when she teaches her advanced dance class. A young girl sits on the couch in the front room, trying on a new pair of white flamenco shoes, and Salascruz consults with her, checking the fit, then runs to the kitchen to shepherd a group of dancers and musicians out to the garage in back of the house, which she has converted into a dance studio. They are talking back and forth in rapid-fire Spanish, presumably about their upcoming concert this weekend at the Sheldon. Salascruz has brought in two professional flamenco dancers from Spain, as well as a guitarist and singer for the concert, to supplement her permanent St. Louis company.
"Most of them, they don't speak English," she explains with a smile and a shrug, listening to the crowd of people talking in her kitchen. "The dancers, without true flamenco guitarists and singers, they cannot dance properly, and so we bring them in from Spain."
Edwin Aparcio, one of the dancers, speaks English fluently, and as he walks through the snow in the backyard, he remarks that only a few days ago, he was in South America, where it was so hot he had no choice but to sleep in a hammock at night. He also good-naturedly issues a warning about Marisel's dog, who is tearing around the yard with a stick in her mouth.
"She barks at people, but that's because she's a puppy," he says. "She won't go after you."
In the studio, Aparcio sets up chairs for the musicians as three of the company's resident dancers change into their costumes: long, red polka-dot skirts covered with frills, red bolero hats, and high-heeled, black flamenco shoes. Because flamenco is a percussive dance style, the shoes are equipped accordingly: Marisel turns over a shoe to show the heel and the toe, which have dozens of tiny nails driven into them.
"And the sole," she says, running her finger down the middle of the shoe, "is rubber. So that they do not slip while they're dancing."
Salascruz sews all of her dancers' costumes, and the back of the studio is filled with long racks of flouncy dresses in tropical colors. Though this little building looks like a garage on the outside, once you walk in, it's hard to imagine that anyone ever parked a car in here: the floor has been covered with wood to maximize the sounds of the rhythmic footwork of the dancers, and a professional studio mirror covers the entire far wall; posters of Spain hang next to order sheets for imported flamenco shoes.
Salascruz herself began dance training at the age of five in her hometown of Granada, Spain. She studied not only flamenco, but also traditional and regional dances of her native country with some of the finest Spanish dancers in the world, including Daniel de Cordoba, the artistic director for the Bailes Españoles Dance Company in Dallas, Texas. His choreographies figure strongly in St. Louis Flamenco, and he has helped Salascruz build her company since it was founded. Salascruz has been in Missouri since 1970, and created her company 14 years later. The full name is the St. Louis Cultural Flamenco Society, and their logo includes the carnation, the national flower of Spain.
"Our goal is to expose the community to Spanish culture," she explains. "The performance [at the Sheldon] will not only have the Spanish dance and the Spanish music, but Spanish food, paella, which is the national dish of Spain." (Marisel does all the cooking herself for these events.)
Though her company works to reach the Hispanic community in St. Louis, Salascruz is adamant that she wants her dance company to reach the entire community.
"I thought maybe it was good for the public to see something like this in St. Louis," Salascruz says. "So as part of that, I started with a little group of girls who seemed to be interested about dancing, and they didn't know anything. We put something together and started making shows."
Since 1993, the company has produced one large concert a year to showcase the school's students, as well as smaller performances around the state.
"The reaction is very, very good," Salascruz says. "People appreciate what we're doing, we are invited to a lot of schools, universities, festivals — they always include us. We do regional and national dances, but there's something fascinating about flamenco."
Her company is comprised of apprentices from the St. Louis community who dance alongside the professional flamenco dancers from Spain. One of her original apprentices is still dancing with the company, though Salascruz admits that because most of her students are college women, they often leave the company after they graduate, get married and find themselves in full-time professional jobs.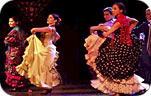 "But the purpose of our company is to cultivate, to pass our culture to young people who come here," Salascruz says. "That is my intention. I don't do it for money," she laughs, gesturing around the little garage. "We do what we can to perform, to promote the culture. I think all of them learn something about the culture, our traditions. I give them a lot of credit, because this is not their culture."
When asked if many of her dancers want to know more about Spain after learning flamenco, Salascruz nods and claps her hands in delight. "Oh, yes! They want to go to Spain; I had one that she liked it so much, that she is there now. She is studying flamenco, but she moved down there because she really likes the culture and all the things we passed to her."
Many Americans, including many of the young women who first walk through the door of Marisel Salascruz's studio, don't really have a full understanding of authentic flamenco. It's not Jose Feliciano, and it's not the Gipsy Kings; it's not even Bizet's "Carmen," although all of these show its influence.
At its heart, flamenco is very Spanish, though it sprang from Andalusia, in the southern part of the country, during the 17th or 18th century. It's thought to be the product of diverse cultural influences, including Romany (Gypsy) Moorish, Jewish and Muslim, as well as the native dances and songs of Andalusia. Historically, it was an outlet for persecuted communities, and was passed down in an apprentice style, through schools. In the 19th century, it saw its golden period with the emergence of the "Cafes Cantantes" in Spain, where flamenco was showcased exclusively. It fell into obscurity until the mid-20th century, when it re-emerged as a mainstream, popular art form — hence the popularity of the Gipsy Kings, whose music is heavily influenced by flamenco.
However, their offering is not pure flamenco. In its traditional form, the term not only refers to the dance (baile) and the guitar (guitarra) but perhaps most importantly, the vocal accompaniment (cante). In addition, true flamenco involves complicated patterns of percussive hand-clapping, which is choreographed as carefully as the dance steps. A true flamenco guitar is made of cypress and spruce woods, making it lighter than a traditional guitar. This is what gives its distinctive sound — light but sad, melodic but percussive.
As Aparcio and his dance partner, Beatrice Romero, dance gracefully (but with great intensity) across the floors of her studio, Salascruz points to singer Macarena Hera de Jurado, who is singing along plaintively with the guitarist. Though she is wearing platform sneakers and jeans, her sad voice sounds out of place in the 21st century.
"The dancers signal to the singer," Salascruz says. "They are in charge; they tell the musicians what to play. Each song tells a story. This one is about the French invading Spain."
Watching professional dancers such as Aparcio and Romero is to realize that at its heart, flamenco is all about paradox. As they dance, the two do a great deal of stomping on the floor, yet they move oceanically. When Romero later changes into a pair of street shoes to demonstrate a dance step, her shoes can't quite grip the floor, but her steps are still assured, logical and utterly graceful.
The trio of company dancers is another study in the inner workings of flamenco. They walk to the studio floor in their long, flourishing skirts and boleros and break into the piece they will perform this weekend. Salascruz taps her foot along with the rhythm and watches carefully. "This one," she smiles, "is about the hat!"
Near then end of the number, Salascruz jumps up to correct one particular step. "No, no, no —" she says, running up to demonstrate in front of the mirror. She sings the rhythm as she shows them: step forward, step forward, stomp, twirl the skirt and raise the arms above the head (da, da, da - da! da!). They run through it seven or eight times with instructions in Spanish, until Salascruz is finally satisfied. She sits back down to watch, smiling and nodding.
Though the dance steps are the same, each woman tips the hat off her head and flips it in her hand in an entirely unique way. Their footsteps are in time — it's one unified chorus of nail-embedded shoes hitting the floor — but it doesn't look like drill team moves; their dancing weaves together the way voices do.
Lorca wrote that an old flamenco guitarist once told him that, "The duende is not in the throat, the duende comes up from inside, up from the very soles of the feet." It does not matter if those feet are wearing black leather shoes with nails on the soles or sneakers, like Marisel is wearing tonight. True flamenco, real duende, said Lorca, is "a true and viable style — of blood, in other words; of what is oldest in culture: creation made act."
For more information on the St. Louis Cultural Flamenco Society — including upcoming performances — visit www.saintlouisflamenco.com. They are also available to perform for schools and other community organizations. The company is also seeking talented new members for their apprenticeship program; if you are interested in auditioning, contact Marisel Salascruz at marisel@saintlouisflamenco.com. Salascruz also offers private technique classes, as well as beginning classes for adults and children. For times and prices, visit the website above.
Stefene Russell is a St. Louis writer who has a lot of duende her own bad self.