Venus. Envy. These two words alone provoke a menagerie of meanings and a myriad of emotions. Pair them together and the results have proven to be explosive.
Venus Envy is a community arts event, which often means that everyone in the community has an opinion about it. The arts seem to be public domain; therefore a statement like, "I don't know anything about art, but I know I don't (or do) like it" is as valid and commonly respected as "E = M C 2." You can understand how the "tongue-in-cheek play on the original Freudian phrase" title of an art event strikes a chord in anyone who thinks about it.

Much to the dismay of some, VE's origins were simple and well-meaning. A few months after I accepted the volunteer position of Gallery Director at the now defunct Midtown Arts Center, and just a year or so after I moved to St. Louis, I became aware of two very important facts: 1) there is a wealth of exceptionally talented female artists working here and 2) the arts in St. Louis are led and perpetuated by women.* Under my direction, the gallery at Midtown Arts Center became a haven for local, hyper-contemporary artists. I was most fond of group exhibitions with a common theme. These exhibitions supported more artists and drew more people. It wasn't long before the voices in my head were saying to me, "Wouldn't it be great to showcase the works of local female artists under one roof?"
The time was February 1999. From a marketing standpoint, the best promotional vehicle for anything in February is Valentine's Day. Forget the real meaning of it, which is far from visually attractive among the masses. Think hearts and flowers, love and chocolate. The formula became: Valentine's Day + art created by women = Venus, the Roman goddess of love. After doing some online research and scanning my memory bank, I recalled a CD in my housemate's collection titled "Venus Envy," made by a collection of female musicians. The voices spoke again: "It doesn't get any catchier than that." I discussed my ideas with a couple of the artists whom I wanted to invite and they knew of several more who would be perfect for such a show.
We had our first meeting. I spent much of my preparatory time exploring the perfect image to represent our humble version of "Venus Envy." Here's the list of popular images that were scratched: "The Birth of Venus" by Botticelli (too pretty), Venus de Milo by unknown (no arms and also too pretty) and the Planet Venus (cool, but visually boring). The "ah-hah!" came when I was reminded of one of the most compelling images from art history class: circa 24,000-22,000 BCE, the Venus of Willendorf. We don't know what her creators called her, but to paleontologists, art historians and me, she was "Venus," the most significant and perfect symbol of creativity and womanhood on earth. She could be found in the first ten pages of any art history book. We had her to thank for what we take for granted these days, the human compulsion for self-expression.
So, 11 local female artists + 1 gallery director + a great sense of humor + a Stone Age fertility figure = an unforgettable night of singing, dancing, laughing, eating, drinking and most importantly, honoring the women in our lives. About 500 people showed up that night, and the women who pitched in $25 apiece (for printing the postcards), a bottle or two of wine, a dish to share, time, energy and enthusiasm had no one to thank but themselves.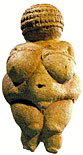 The show had been pushed back to April 1, 1999, and moved to the Artloft gallery for reasons not warranting elaboration, and on that fateful night the voices said two things to me: "Wow!" and, "We gotta do this again next year." I was charged with the energy of that one night for a full year, and those 11 women were gathered again. But this time, they brought along with them approximately 25 of their favorite local female artists. Venus Envy tripled in size in its second year and by 2001, we were exhibiting the work of 75 local female artists and showcasing the performances of about 15 local female performing artists. Before opening night of the second year, we decided that asking for donations from the audience wasn't a bad idea. After all, we were providing them with lots of food, drink and entertainment. The $25 artist's fees would no longer cover all of the expenses, and we began to anticipate a future for Venus Envy. The community was positive, for the most part, and the benefits of such an event on the artists' careers were revealing themselves. The $25 artist's fee waived any obligation to commission on sales of artwork thus keeping prices down. Performers were selling their CDs and tapes and playing to crowds in the hundreds, even thousands. By 2001, art was flying off the walls, and musicians were proclaiming that they had sold more of their albums in that one night than in their entire career.
The year 2002. We lived through 2001, and we made enough money to not only do it again in St. Louis but to share our success with another city that would appreciate similar recognition for its female artists. We also realized that if we were to continue to grow at the same rate, we would be volunteering our time to accommodate 120 female visual artists and 30 performing acts. We'd have to quit our jobs and rent a city block. At the 25th hour, we called a meeting and democratically decided to try selection of artwork by jury. I knew what this meant from the very beginning. I am not sure whether my colleagues totally understood. They probably did, because we also knew that we didn't have time to recruit out-of-town jurors, and that the local jurors must be kept anonymous for their own safety and privacy. To this day, even I do not know who was on the jury for the 2002 exhibition.
This year, the work in St. Louis will be selected by three women who do not live here and presumably do not know any of the artists who submitted. In Memphis' second year, the artists of Venus Envy will be selected in the tradition of St. Louis' first three VE's, by invitation. And for Venus Envy's first year in Baton Rouge, Louisiana, the artists are being handpicked, also in traditional VE style, by a gallery director who also happens to be the daughter of Founding Artist Clare Bramlette.
Venus Envy is set up, in its own way, as a mentoring program. It has the potential to empower generations of women all over the world. Nowhere in the world can you find a comparable level of revelry, respect, honor, love, or "envy" of the entire, beautiful female experience. Every woman, man, child understands it, but only when they attend. It's a phenomenon that has willingly made itself available as public domain. Anyone can own a piece of Venus Envy, but only if she/he is willing walk under our arches, through our portal and into our opening.
Mallarie Zimmer is the founder and chairwoman of Venus Envy.