River Relief, Inc., is a non-profit, grassroots organization doing a dirty job that no one else wants: picking up trash from the Missouri River. Our volunteer-driven group is dedicated to cleaning trash from the river across Missouri — tackling hundreds of miles and decades' worth of trash at a time.
"There isn't any other government agency, non-profit or business working to solve the problem of trash on the Missouri River," says Jim Karpowicz, my colleague and River Relief founder. "Now we have hundreds of volunteers across the state who are willing to give a day of hard work to make a difference for the river. It's inspiring."

River Relief was born five years ago, when Karpowicz and other organizers first heard about the work of Chad Pregracke, who was doing large-scale clean-up work on the Mississippi. Pregracke started picking up trash on the Mississippi at the age of 19, using his own johnboat and persuading his buddies to help him. Driven by his own enthusiasm — sometimes bordering on crazy obsession — for the river, Pregracke stuck with it and support for his project began to grow.
Today his non-profit organization is called Living Lands and Waters — we like to call it the nation's only "industrial strength" river clean-up operation. He has four huge workboats, trucks, Bobcats, a tug, a complex of barges and a crew of about 10 people working fulltime. He has expanded his project to include the Ohio, Illinois, Potomac and Missouri rivers. The barges house a floating classroom, a bunkhouse for the crew, and of course, mountains of garbage. The garbage ranges from spectacularly weird to just plain gross.
"I had heard about Chad, and I just kept calling him to see if he would come help us on the Missouri River," recalls Karpowicz. "Finally I drove up to Illinois to talk to him in person and convinced him we were serious and wanted his help. He really inspired us to do this work on the Missouri and make River Relief grow as an organization."
That fall of 2001, Pregracke brought his barge up the Missouri River all the way to Easley, which lies just south of Columbia, and River Relief staged the first clean-up ever held on the Missouri River. More than 500 people showed up to clean 32 miles of river. They pulled an estimated 60 tons of garbage out of the river in one day. The media turned out in force, people talked about it for weeks and there was a sense that mid-Missouri's collective attitude toward the river had undergone a transformation. After that day, the river was no longer a scary, dirty place with insurmountable problems. Hundreds of people saw the vast improvements one day of hard work could bring. It was no longer acceptable to see old tires and appliances littering the banks and river roads.
"It was a transforming experience. Not just for people who helped get this whole thing started, but for all the people who had never been on the river before," says Jeff Barrow, River Relief's event coordinator. "Picking up garbage is important, but giving people a chance to experience the river first-hand, to see how beautiful and big it is... that's the lasting part."
Our concept remains simple: River Relief provides river communities with the infrastructure, equipment, publicity and organizational know-how to move people safely and efficiently to pick up trash on a big, seemingly unwieldy river. Local community volunteers do the rest, and we are always astounded by their drive and willingness to work. Our core crew of volunteers — those River Relief people in mid-Missouri who help organize the events and travel throughout the state — do it out of love for the river and for shared camaraderie.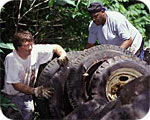 Volunteers remove mountains of cans, bottles, tires, appliances, meth lab debris, car parts, household goods... you name it. Some of the more memorable finds include a couple of bowling balls, a mannequin, engine blocks, football shoulder pads, a soaked block of marijuana and a full-size refrigerator that still had a jar of mustard and half a sandwich inside it. Last year at a clean-up based in Jefferson City, volunteers removed the wreckage of an entire mobile home, one that had probably been destroyed during the 1993 flood.
Since the first clean-up in 2001, River Relief has continued to partner with Pregracke, staging 16 massive clean-ups with 3,200 volunteers, cleaning 200 tons from 195 river miles. We are supported by donations from corporations, government agencies and grants — anyone who wants to see the river become a cleaner place. Our office in Columbia works with communities across the state to organize clean-ups. Events have taken place in St. Joseph, Kansas City, Lexington, Glasgow, Hartsburg, Easley/Columbia, Jefferson City, Washington, St. Charles and St. Louis.
In 2002, we added educational events for kids, usually held on each Friday before a big clean-up. School kids are bussed to the riverbanks where they visit tents and booths staffed by employees from by various natural resources agencies. They get face-time with live catfish and other animals, learn about trash and recycling, maybe visit with a Corps of Discovery re-enactor, manipulate a stream table and just about anything else Missouri River-related. So far, more than 3,300 students have attended Missouri River Educational Events hosted by River Relief.
This spring, volunteers of all ages and abilities are invited to help us kick off our fifth season with a massive clean up at the confluence of two of America's greatest rivers from 9 a.m. to 3 p.m., Saturday, April 30. The clean-up headquarters will be at the Columbia Bottom Conservation Area in north St. Louis County, located 3 miles north of Exit 34 (Riverview Drive) on Interstate 270. The clean up is being held in conjunction with the St. Louis Earth Day Celebration, which takes place the next day in Forest Park.
Volunteers will have the chance to be ferried in boats out on the Missouri and Mississippi rivers to pick up trash and debris from pre-scouted areas along the shores. The materials will be collected on Chad Pregracke's "garbage barge" to kick-off the 2005 river clean-up season for both River Relief and Living Lands & Waters. Volunteers should dress in work clothes and wear sturdy shoes.
The Missouri Stream Team program provides trash bags and work gloves. River Relief and Living Lands & Waters provides life jackets for people traveling in boats operated by professional drivers from the Missouri Department of Conservation and the U.S. Fish and Wildlife Service. Additional clean-ups will take place May 14 in Easley/Columbia, September 24 in Boonville and October 8 in Kansas City.
For information, call Missouri River Relief at (573) 443-0292. Individual volunteers and groups of any size are encouraged to sign up on the website at www.riverrelief.org.
Charlotte Overby is the project coordinator for River Relief.