Though my wife and I have yet to see very much of your city — I've been there only twice, and briefly; and my wife, only once — we are already living there online. And when not online we're washing walls, packing pottery and arguing about what does and doesn't go into the yard sale corner. Here's how we settled on our new home (and why we decided we needed a new home in the first place):
It's HARD to live in New York. I don't mean dangerous. I don't really even mean expensive, because there's always a way around that. I mean, doing the simplest things can be arduous, and in order to make them less arduous, you pay. You pay for space, for time, for services, for experiences — many of them interesting, amazing even. If you have a job in Midtown, as I did, your commute can take you an hour and a half each way, each day.
And then there comes a day when you allow yourself to admit it: You want a life that's easier — not less intellectually challenging, not less diverse, not less filled with new experiences — but one in which the quotidian details of living can be discharged more easily and at lower cost, leaving you more time for the things you say matter to you.
But after a lifetime in New York, a lifetime spent persuading yourself you can live nowhere but there, where do you go? I think that one of the places you might think about going — if it were known for something other than its past glories, mostly eclipsed by its more recent decline — is St. Louis. For urbanites who live in northeastern/middle Atlantic cities like Boston, New York, Philadelphia, even Baltimore, St. Louis looks a lot like home.

Because you've spent decades looking at the power plants and factories across the East River from Manhattan, you understand the funky glamour of the Mississippi and the romance of the industrial landscape, even in ruins, maybe even especially in ruins. The neighborhoods look like your neighborhoods. Down to those opulent highrises on Lindell — just like Central Park West or South or Riverside Drive in the '70s. You know before you ever set foot on the street exactly what it's like to walk down Washington Avenue at noontime on a Tuesday.
As New Yorkers, Ellen and I RECOGNIZED St. Louis immediately. That recognition, and the things recognized, encouraged us to persevere past our skepticism and disdain. And a good thing, too, because day after day, as we peeled St. Louis like an onion, we kept on finding new things that amazed us.
Real estate, as always, led the parade. The quality of St. Louis' built environment is truly remarkable. I know you know that. But I don't think you can appreciate how astoundingly good the price/value relationship is.
In my neighborhood, which has become quite desirable, the price for the lowliest piece of one-family frame garbage is now pushing $400K. In St. Louis, I can live on West Pine Boulevard in a six-bedroom brick mansion for (asking price) $389K. But more to the point, I can live in a six-bedroom limestone center hall building on Raymond Avenue near Kingshighway for $129K (and that, again, is the asking price).
We found Metropolis St. Louis. Their videos were incredibly effective. Not because of the specifics of the videos themselves but because they showed us that there was a group of people who saw what we saw.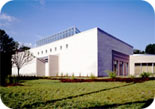 I discovered the rarity of an urban synagogue — a synagogue in a smaller American city? Unheard of since the '60s or '70s! — that had been established only a decade or so before; a synagogue that sounds a lot like my old one here on Staten Island. I attended services there — Central Reform, at Waterman and Kingshighway — on my last visit.
The established public institutions LOOK like they're supposed to look: Impressive. August. Purposeful. Authoritative. That's the price of admission to the ranks of Serious, No-Shit Cities.
What kind of city would be home to the largest ethical society in America? Your city. It's larger than the membership of the Ethical Culture Society in Manhattan.
And Built St. Louis. And Ecology of Absence. And Arch City Chronicle. And The Commonspace. And Urban St. Louis. And Urban Review - St. Louis. And most recently, Read Julia!
I assume you know how strong a presence St. Louis has on the Web. For a city lover considering relocating, it's not just a great resource; it's a major selling tool. If the various resources and indicators we uncovered could be imaginatively packaged and presented, it would be a good alternative to the, "What St. Louis suburb would you like to move to?" approach that you see on most relocation sites.
Why did St. Louis top our list of places to look? Frankly, no other city came close.
Here's the breakdown:
Desirable but overpriced:
New York
New England
Don't know, don't care:
Middle Atlantic
Upper Midwest
Not on your life:
The South
The Southwest
The West (like, California)
Yuppie hell:
Seattle
Denver
Portland
Negative experiences/perceptions:
Chicago
Too Republican:
Cincinnati
Might be okay, but future too uncertain:
Cleveland
Pittsburgh
My wife sat down with a skeptical friend and together, they ticked off, city by city, every possibility they considered realistic. In the end, there was no other choice.
Dan Icolari is among the most enthusiastic St. Louisans who don't yet live here.