Wednesday, April 6
Lecture: "Photographer Without Borders," by Susan Meiselas
Auditorium of the Saint Louis Art Museum, One Fine Arts Dr. in Forest Park
Free, all ages, 7 p.m., 314-721-0072, www.slam.org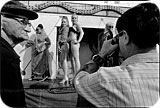 Documentary photographer Susan Meiselas has won countless awards for her globe- and content-spanning body of work, from bloody Central American civil wars to a subject close to her own heart, portraying women on the margins of societies (battered women in Juarez and strippers in New England). Her photos have appeared in such publications as Time magazine, the New York Times and Paris-Match. As visual imagery becomes ever more important in our media-saturated environment, come hear about the background behind the pictures.
---
Thursday, April 7
Reading: "Three Stephanies"
Contemporary Art Museum St. Louis, 3750 Washington Blvd.
Free, all ages, 7-9 p.m., 636-458-0131, belz.net/readings
These other two Stephanies (McKenzie and Young): we're sure they're fine. (Sheesh, they're both got first volumes of poetry due out this year — they must be doing something right. Last time we checked, the writing of poetry was not exactly a guaranteed path to the fame you may deserve...) But our heart belongs, of course, to St. Louis' own Stefene Russell, whose wry observations we've enjoyed in forms both poetic and prose-y (which is not to say prosaic); and we're not just saying that because she's an occasional contributor to this fine webzine! Head out tonight to enjoy this last installment in the Aaron Belz-helmed reading series for this season.
---
Friday, April 8
Art Openings: "Forest Park, 12.30.04," by David Scheu and "Still Here: The Changing Art of Living with HIV"
Left Bank Books, 399 N. Euclid and Charles Houska Gallery, 4728 McPherson Ave.
Free, all ages, 6-8 p.m., 314-367-6731 and 314-454-0959
We've taken the liberty of grouping these two opening together because we believe in synergy, that bad word of the '90s...well, we believe in it when it applies to your social and civic life, that is. So, if you're already out of the house enjoying of these two fine exhibits, why not take the, oh, say 42 steps down to the second gallery and enjoy the other? (A prize to the first reader to e-mail us at amanda@thecommonspace.org with the actual correct number of steps between Charlie Houska's and Left Bank's front doors, within five). Dave Scheu's photographs of a starkly beautiful Forest Park in winter include many intriguing line studies, interplays of line and shadow, and nature busting out all over, even in the "dead" season. "Still Here" was originally a public art project for the Art in Transit program in San Francisco, and touches on the new realities of living — often for many years — with HIV/AIDS, and will include additional works here by printmaker Nancer Lemoins. Do drop in.
---
Saturday, April 9
Reading: Chris Hayden
Divoll Branch of St. Louis Public Library, 4234 N. Grand
Free, all ages, 11 a.m.-1 p.m., 314-534-0313

Hayden is a real St. Louis treasure, whose poems frequently reference his hometown and especially the vibrant culture and characters of the African-American neighborhoods where he grew up. The words are only half the story, though: his delivery, a mesmerizing cadence and great voice, make the experience complete. Copies of his books of poetry will be available for purchase.
---
Saturday, April 9
2nd Annual Repeal of Prohibition Beer Festival
Schlafly Bottleworks, 7260 Southwest Ave.
$20 advance/$25 door, 21-up, 3-8 p.m., 314-241-2337 x 250, www.schlafly.com
Prohibition: wasn't that some silliness? Anyhoo, here's all you need to know: it's over! And today we're gonna party like it's 1933, with tastings of more than 20 delish beer styles — Schlafly faves, of course, but also (in a gracious loser's nod) several brews from Harpoon and Boston Beer Works, the result of a lost World Series bet. Besides beer, music is on tap, from the Bottoms Up Blues Gang and the outrageously rockin' (and strikingly sober) Diesel Island. And you get to keep the glass!
---
Sunday, April 10
Concert: Jerry Butler
The Ambassador, 114 Northland Shopping Center
$25/$30, 21-up, doors 7 p.m./show 8 p.m., 314-389-6767. www.ambassadorstl.com

They call him "The Iceman," baby, because he's so cool. Maybe it's the Motown parenting, but we have a soft spot in our hearts for Jerry Butler, who recorded such classics as "Western Union Man," "Moon River" and "He Will Break Your Heart"; even better, though he still trots out the classics in the odd tour appearance here and there, he's gone on to productive citizenry — by serving as a commissioner for Chicago and Cook County. How cool would it be to have a soul singin' legend as your elected representative? (Way better than some dude with a donkey...) This is history, folks, and you shouldn't miss it. We won't.
---
Monday, April 11
Talk: "Cellblock Visions: The Art of Women and Men in Prison," by Phyllis Kornfeld
J.C. Penney Conference Center at UMSL, 8001 Natural Bridge Rd.
Free (bring a lunch), all ages, 12:15 p.m.-1:15 p.m., 314-516-5699
Part of the Monday Noon Series of the university's Center for the Humanities, today's talk is by author Phyllis Kornfeld, who has worked for more than 20 years bringing arts programs to incarcerated men and women, whom she finds to be "candid and insightful" about their lives and their experiences. Her effort is to fight against the tendency to dehumanize these members of society who are so often out of sight, out of mind.
---
Tuesday, April 12
Reading: "Hearing the Whispers and Roars: An Evening of Readings on Rape and Healing"
Dressel's Pub, upstairs gallery area, 419 N. Euclid
Free admission (food/drink for sale), 7-9 p.m., 314-726-6665
An annual event sponsored by the YWCA's St. Louis Regional Sexual Assault Center, this evening is a powerful event combining survivors of rape and sexual assault and members of the community at large. Survivors read accounts they have written of their victimization and healing, while others read published essays and poems on similar topics. The reading happens in conjunction with the "Clothesline Project" displayed in the windows of nearby Left Bank Books.
---
Wednesday, April 13
Lecture: "Assessing Polling Places in the St. Louis Area," by professor David Kimball
Social Sciences Bldg. at UMSL, 8001 Natural Bridge
Free, noon-1 p.m., 314-516-5273, pprc.umsl.edu
Ever wondered why some polling places are clean and shiny and overflowing with balloting stations and volunteers while others have a rickety check-in table and two overwhelmed poll workers? Professor Kimball and his students studied nearly one hundred polling places in the city and county during last year's presidential election and found that, though St. Louis was not under federal elections monitoring, plenty of room for improvement and equalization exists. Wonks and everyday citizens alike will find plenty of interest in their presentation.
---
Friday, April 15 and Saturday, April 16
Venus Envy
The Grove, 4100 block of Manchester in Forest Park Southeast
$5-$10 donation, mature audiences, 7 p.m.-midnight both nights, 314-865-0181, www.venusenvy.org
This is it, kids, the Big Event of the Venus Envy year (though we'll note happily that the organization, under the leadership of its board and ED Mallarie Zimmer, has expanded into year-round goodness after experiencing such success with their annual art event); and to make sure you can't lame out and say you had something going on that one night, you'll have two chances on consecutive evenings to hustle on over to the happening strip of Manchester being pushed as "The Grove" for the festivities. Performance, visual art, music and so much more make this one of a handful of can't-miss events on the St. Louis hipster social calendar. You want to be in that crowd, right? We thought so.
---
Tuesday, April 19
Green Drinks: discussions on environmental sustainability
Schlafly Bottleworks, 7260 Southwest Ave.
$3, 21-up, 6-8 p.m., krista@bgb.org
Don't worry: this isn't a return to the evil green beer of last month. Instead, we're talkin' Mother Nature green, and an evening spent imbibing and enjoying informal discussion with other smart and concerned folks on the topic of "Green Rehab." Interested in solar, graywater reclamation, sustainable building materials and the like? You can learn about the practical requirements for commercial and residential building and remodeling projects, as well as connect with local folks in the field, from academics to businesspeople. Your $3 admission is a donation to Building Green Bridges.
---
Friday, April 22
Puppet Theater: "Hiroshima Maiden"
Edison Theatre, Washington University, One Brookings Dr.
$28, 8 p.m., 314-935-6543, www.edisontheatre.wustl.edu
We're pretty sure this might be the most unusual offering all month: performance artist Dan Hurlin brings his troupe of puppeteers to tell the tale, in the style of Japanese Bunraki puppetry, of a group of 25 women who were disfigured by the nuclear blast in Hiroshima. Shunned by their community, they were brought to the U.S. in 1955 to undergo rounds of painful reconstructive surgery...and then appeared on the "This Is Your Life" program where they were put face-to-face with the pilot of the Enola Gay. Serious stuff, compellingly retold. And puppets.
---
Saturday, April 23
Lecture: "St. Louis' Shining Stars," a history of the Negro Leagues in St. Louis
Missouri History Museum, Lindell & DeBaliviere in Forest Park
Free, all ages, 3 p.m., 314-454-3150, www.mohistory.org
The names — James "Cool Papa" Bell, Willie "Devil" Wells, Quincy Trouppe and so on — may be familiar to you, but if their stories are not, today's the day to find out all about the two all-black local teams, the Giants and the Stars, who played here for the Negro Leagues. Joe Walsh, a history student from Wash U., will re-tell their stories and bring these vivid personalities back to life for his audience.
---
Saturday, April 23
Film & Music: "The Sounds of Science," featuring Yo La Tengo
Winifred Moore Auditorium of Webster University, 470 E. Lockwood Ave.
$10, all ages, 7 and 10 p.m., 314-968-7487, www.webster.edu/filmseries.html
This is so super-cool we can't even stand it: dreamy rockers Yo La Tengo will be there, at the Wini Moore, to perform their score in support of the avant-garde undersea documentary shorts of French filmmaker Jean Painleve. From sea urchins to shrimp to "The Love Life of the Octopus," the visual and aural beauty of this collection, filmed from 1927 to 1978, will transport you. Plus, YO LA TENGO!! That's all we should have to say.