As summer heats up in St. Louis, so does the local Ultimate Frisbee scene. Drivers passing Tower Grove Park or going through Forest Park in the early evening hours will glimpse what looks like a giant game of keep-away with a Frisbee. If they pause to watch, they'll realize that the players are actually two teams of 7 players each, attempting to score points in a field game that looks like a combination of soccer, basketball and football — but played with a Frisbee.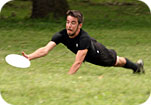 Like soccer, an Ultimate game is continuous action until a point is scored by one team. When a player drops the Frisbee disc or throws it out of bounds, the other team immediately retrieves it and play continues in the other direction. Like basketball, a player cannot run with the disc, but must establish a pivot foot until he throws to a teammate. A throw must be made within a count of 10 from the moment of receiving the disc. Like football, a point is scored when a player completes a pass to a teammate in the end zone of the field.
Ultimate Frisbee has been around for decades. The first Ultimate game was played at Columbia High School in Maplewood, New Jersey, in 1968. The first organized tournament was held at Yale in 1975, with eight teams participating. Ultimate is now played worldwide and the Ultimate Players Association (www.upa.org) manages eligibility requirements and membership of the more than 15,600 members who play at the college and club level tournaments in the US.
The less formal arena of pickup games has even more participants. All around the world, a system of casual games has evolved, where players meet to experience the joy of the game, even though players may constantly switch sides and scores are rarely kept. The beauty of Ultimate is that it is simply fun to play, and the thrill of throwing a long huck into the hands of a teammate running into the end zone to finish a long point is hard to top. In St. Louis, pickup goes on all year round, except in the worst weather.
A defining characteristic of Ultimate, whether games are casual pickup games or the finals in a tournament, is that there are no refereeing officials. Players make their own calls and adhere to a special ethical code. Ultimate sportsmanship is based on a principle called "Spirit of the Game," whereby players are expected to abide by the rules, make fair judgment calls and treat their opponents and the game with respect. After a game, many teams make up cheers to congratulate their opposing teams for a game well played, no matter who won.
Ultimate Frisbee in St. Louis

Like many Ultimate players in St. Louis, I've been playing for more than 10 years. I discovered the sport in college and played with the University of Kansas women's team, Betty. The Ultimate players there were some of the nicest, most fun and most sportsmanlike athletes around. As a tennis coach's daughter who had grown up with the notion of sportsmanlike conduct as a priority, Ultimate was a good fit for me. Since then, I've found a community of Ultimate players everywhere that I've lived: Costa Rica, Madison, Kansas City and now St. Louis. And I still think Ultimate players are the nicest, most fun and most sportsmanlike athletes around.
Every summer since 1995 the St. Louis Ultimate Association holds a summer recreational coed league that is open to anyone to play. Summer league games take place at Tower Grove Park in south St. Louis city. Team captains attend a hotly contested draft meeting before the league begins, to try and recruit the best hands, quickest feet and most experienced strategists for their teams. Also sought after are those who may be new to the sport, but have promising athletic abilities or youth on their side. Team captains also cite sportsmanship and a fun attitude as being important in their player choices, as well.
Currently in St. Louis, the 2004 summer league players number more than 300, making up 18 teams. St. Louis also boasts several college and club teams which compete in tournaments around the country. St. Louis' Fat Boys men's team placed 4th at Nationals in 2003, and many were members of the 1984 World Champion team, the Tunas. Several area high schools have Ultimate teams as well.
Dana Gray is chairperson and treasurer of the St. Louis Ultimate Association; Jeff Walters manages the website via Cybermill Communications; Buck Schneider coordinates high school clinics and teams; and Scott Alcock coordinates summer league team play. The local Ultimate community thanks Dana, Jeff, Buck, Scott and many others for their leadership in organizing Ultimate in St. Louis.
Anyone wishing to participate in the 2004 summer league or the Hat Draw Tournament on June 5 (where teams are randomly picked) can contact the St. Louis Ultimate Association through their website, where information on local pickup times, club teams, rules and locations is also available.
Heather Milton captains a team in the St. Louis summer league, recently took up running 5K races, teaches GIS mapping software and is attempting to purchase her first home without losing her mind.