Albuquerque is poised to be one of the next great cities in America; Richard Florida said so. Well, okay, so Richard is a smart dude and a fun guy, but shucks, we knew it all along. Why so brazen? Particularly when we excel at none of the traditional metrics that typify a "successful" American city and the state as a whole tends to be at the top of some of the wrong lists?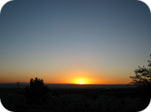 Albuquerque, (and for that matter New Mexico in general), suffers from a paradox of sorts that many of us try to explain in order to understand it ourselves. On the one hand, there is a palpable collective self-esteem problem in the state that is reinforced and all too well documented by the many barometers of social well-being that pummel New Mexico on a consistent basis. Yet, for those of us who love this place, who sense the pull of innovation that is intrinsic to the culture, we understand that there is much more here than what is purely visible.
What's best known about New Mexico is what is visible: the landscape. Its beauty is varied and legendary; from sweeping mountain vistas of aspen forests to the austere spiritual charm of high desert mesas. The point that this place is visually captivating is typically reinforced with almost evangelical zeal by many of us when we travel and regale unwitting victims who mistakenly ask, "So, what's New Mexico like?"
What's less well-known about New Mexico is what is not immediately visible: the amazing people who choose to live here and the desire to innovate. The phenomenal human talent that gravitates to Albuquerque relishes the openness and inclusiveness of the community as much as the physical beauty.
I'm going to take a fairly superficial shot at it here and name a few groups and several folks that are doing some really cool things:
Jim "Grubb" Graebner and Tony Dellaflora have made DigiFest SouthWest the premier digital movie-making festival in the world; seven scripts are selected from hundreds of submissions, burgeoning movie-makers are provided with a cast, crew and cameras to shoot, edit and show an 11-minute movie in seven days. Call it full-contact movie making. This year's festival, starting in June, will take a substantial technological leap as all the movies will be shot in HD — that's HD, as in High Definition. New Mexico has long been a favorite spot for traditional moviemakers seeking expansive panoramas, but has recently come into favor with a number of top producers because of the numerous incentives offered by the NM Film Office.
David Beining has created a world-class dome animation program at the Lodestar Astronomy Center, working in conjunction with Ed Angel at the University of New Mexico and the Digital Pueblo Project.
For the discerning theatergoer with a revolutionary streak, Tricklock Company offers innovative theater with an edge. Their current performance offering, Eugene Ionesco's Macbett has a deliciously sardonic twist.
The Downtown Action Team spearheaded the fastest turn-around in the country of a blighted downtown center. Within five years, the DAT has achieved remarkable results with a strategic plan focused on cultivating entertainment options, then downtown housing. The net result has been a proliferation of new nightclubs and restaurants, including: Sauce Liquid Lounge & Raw, O-PM, Atomic Cantina and Sushi King. Local serial night-club entrepreneur Mike Goodwin has taken his talents and opened O-PM Las Vegas in the Forum Shops at Caesars. The Lofts at Albuquerque High is a superb example of urban redevelopment and historic preservation, made possible through an innovative public-private partnership.

I host a monthly social gathering downtown called SushiGig, whose attendees provide a good snapshot of the talent that populates the community. For instance, Tom Brennan and Mark Benak propose re-inventing the venture capital / technology commercialization model with Zircle, a decidedly ambitious undertaking. Paul Shirley, another local serial entrepreneur, sold his first company to Boeing and has embarked on a second, this time with the mission to create micro-power sources for onboard power supplies on integrated circuits. A fair number of local artists from Fort 105 and other studios typically attend, along with professionals of every stripe. The eclectic milieu attracts a wonderful variety of people, interests and endeavors.
Albuquerque is endowed with a rich artistic heritage, millennia old. The seeds of technological development are fairly new by comparison; however, the two interact organically. The people who gravitate to this community sense that the underpinning attribute is one of innovation — in both art and technology. Innovation is about taking creativity and applying it; to those ends we hope we can fulfill our creative potential as a great American city.