The Lindy Hop Swing Society (LHSS) was started in June of 1999 by a group of dedicated (fanatic) dancers, musicians and teachers who wanted to create an organization that would specifically educate and attract new dancers to Lindy Hop, offering a safe and fun resource in the St. Louis area. Membership is $12 a year for an individual and $30 a year for a family of three or more. Membership entitles you to discounts at all classes, workshops, dances and some local merchants.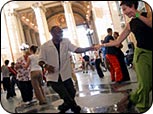 Whether you've been dancing for years or would just like to "check out this swing thing," we welcome your participation. All ages — teens to seniors — are welcome, although our main demographic is folks in their 20s and 30s. Lindy Hop has a very big social network around the world. Lindyhoppers travel quite a bit on a regular basis to other cities and countries to learn and dance more.
Our main location for classes and dances is a beautiful hall we rent from the First Divine Science Church, at 3617 Wyoming Street in the Grand South Grand neighborhood. We sponsor introductory to advanced Lindy Hop Swing classes, put on occasional workshops, and have three monthly dance events: a dj'd social at Talayna's Jukebox on Hampton (JukeBox Jamboree), a "Lindy with the Big Bands" event at Casa Loma Ballroom with live music, and a dance called "SOS (Swing on a Shoe String)" with dj music. We hold an annual dance event called the St. Louis Lindy Blues Exchange (STLBX) the last week in September that draws hundred of people to St. Louis. STLBX allows us to showcase St. Louis attractions such as Union Station, blues cruises, City Museum, the Lemp Mansion, Kiener Plaza and the History Museum as venues. The event features four days and nights of dancing to local blues bands in ten different venues, with about 20 hours a day of dancing. We also do homestays for all those visitors! Our primary musical loves are swing, jazz and blues music from the 20s thru the 50s.
The Lindy Hop Swing Society also does performances and teaching jobs for many events and other organizations throughout the year.
What is Lindy Hop?
It's an exciting, playful, social swing dance, first associated with the famous Savoy Ballroom in Harlem, New York, beginning in the late 1920s. Life magazine called it the "only original American dance." It's the grand-daddy of all contemporary swing.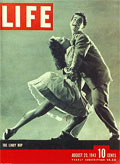 A jazz-inspired dance, it owes much to the Charleston, jazz and tap. Named after Charles Lindbergh's cross-Atlantic flight, it has evolved to encompass many variations that survive today including jitterbug, Hollywood or smooth style, East coast swing, West coast swing, jive, bop, shag, Balboa and imperial swing. Like most dances, while rooted in the past, it's been constantly changing and is still a fresh face in the crowd!
It's social...because it is a partner dance, based on sound leading and following techniques. That allows you to dance with just about anyone else in the world who knows the basic swing vocabulary.
The best way to find out more is to get out there and give it a swing!
Caya Aufiero is a co-founder (with her husband John Chen) of the LHSS; they started dancing about five years ago, got hooked on swing and realized they had to find a way to incubate the culture in St. Louis. Find out more at www.lindyhopswing.org, where you can sign up for the weekly "SwingOut!" e-mail, or by calling (314) 865-2346, ext. 12.