VIDEO
"Built for Speed: The Coral Court Motel"
www.billboll.com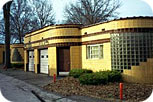 We like our nostalgia here at The Commonspace, and producer Shellee Graham and director Bill Boll offer just that with a trailer for the upcoming Coral Court documentary. Fast-paced and visually arresting, Boll's site features a very fun, three-minute snippet of what looks to be an essential work for the St. Louis film archives. With lots of interviews, period footage and a degree of star power (look, Johnny Rabbitt!), this quick (and loud!) peek at "Built for Speed" will whet your appetite for the full version. It really is a cool, kicking little piece of work, which plays in QuickTime.
LIVE EVENTS
Enormous Richard w/ Fred's Variety Group
CBGB; Saturday, November 8
St. Louis rock fans of a certain generation will fondly remember Enormous Richard, the cheeky, do-it-yourself local band that willed itself a national audience, several releases and heady compilation appearances on some of America's hippest labels. The group, a decade after imploding, finally found the will and time to reunite for a single show in the tiny performance space of CBGB. Though the sound and the sightlines weren't ideal, people didn't seem to mind; instead, everyone simply jockeyed for better space, sliding with "pardon me"s through the dense crowd, denser smoke and shuffleboard table. Pulling out a lot of the classic ER songbook, the band couldn't please everyone, since they didn't remember all the songs. But with only a day to prepare, they pulled things off with plenty of energy and, yeah, charisma to spare. An awkward, gawky kind of charisma, but there all the same. Fun, fun stuff and one of the most enjoyable sets by a (local?) band in quite awhile. Let's hope for another in, oh, five years. We'll still know the words, singing along with a silly smile.
Civilian Spirits
City Museum; Friday, November 14
An ambitious multi-media event at the City Museum, Civilian Spirits had a decidedly progressive feel, with vendors selling cookies and handing out free zines. At least on one floor. One another, an art show hung; though the work was influenced by today's social climate, this multi-artist show would've impressed on any day, without the hook. Back downstairs, in the main area of activity, speakers and musicians of all kinds played to faces that you've seen before, the young St. Louis left community that's grown up around places like the Bolozone, Black Bear Bakery and the Lemp Neighborhood Arts Center. (Ultimately, though, some of the 30-something attendees were pulled outside, despite a nippy rain: no alcohol in the Museum, after all, so the appeal of the Cabin Inn was great, indeed.) The rest of the Museum wasn't necessarily aware of this event — kids screamed and careened down metal tubes within ear and eye shot of the assembled; Bill Ayers' lecture, for those in back, was just audible over the din. More ironically, on another level, the developers of the St. Louis Mills mall were feting their accomplishments. The collision of politics, commerce and kiddy fun was a curious one, indeed. An interesting event, and hopefully an annual one. Bravo to the promoters, though, for an edgy evening.
"Ghost Town: While St. Louis Sleeps"
Atomic Cowboy; Saturday, November 1
The photography of Eric Post was warmly received by a nice audience of attendees on opening night; they skewed far differently than the regulars at Maplewood's hippest coffeehouse, noticeable right away. Filling the narrow venue, Post's work tackles St. Louis structures after dark; generally speaking, no people are found in the shots, and the frames take an almost clinical look at these buildings. You'll recognize a few of them, in all likelihood, while others will have that sorta-kinda familiar feel to them. Almost guaranteed is that you'll look at these places with a new perspective and even respect. Apparently, the work was originally intended as part of a multi-photographer look at the city after nightfall; hopefully, that project will be revived and released. Nice stuff, this.
BOOKS
"The Lost City: The Forgotten Virtues of Community in America"
By Alan Ehrenhardt, Basic Books
Buy it at Left Bank Books

Based on the real-life, roiling Chicago of the 1950s, the author uses one city's changes to sum up a larger American dilemma: why have American cities — and the neighborhoods within them — changed in such a dramatic fashion in 50 years? And what have we lost of value along the way? Needless to say, there's a degree of "good old days" verbiage written here, and with a heavy focus on the role of the church in shaping community life. But Ehrenhardt leavens any thought that he's worshipping that time by noting some of the ills of that day: an acceptance of organized crime and public graft; cramped living conditions; and racial mores that kept people locked into very defined areas. Not a number-crunching book, per se, Ehrenhardt tosses in enough facts and figures to give credence to his anecdotally based arguments. Through it, you pick up his biases. And, if you're reading this site, you'll probably agree with a lot of them. Very readable and well paced, this one's a title you'll devour in a couple of sittings.