The compelling imagery — a filmstrip-esque row of black-and-white faces — starts on the cover and never lets up throughout the slim, new "Portraits Along the River," a collaboration between local photog Bob Reuter and writer Thomas Crone. The duo set out to chronicle the daily experience of workers at various jobs, from parking lot attendant to museum curator to tax attorney, in the city of St. Louis.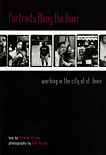 It's not intended as an anthology of "St. Louis' Wackiest Jobs!!" or as an exhaustive list of the various industries represented in the Gateway City. Instead, the book's collaborators focus on representing the breadth of the everyday St. Louis experience, with an eye towards diversity in geography, race, gender and age. Gertrude Heller (or "Mrs. Heller," as you'll learn you should call her), an elderly proprietress of a wig shop, shares the pages with Tony Butler (a.k.a. Disco-T, Yours Truly), a club disc jockey extraordinaire who shares the secrets of making a successful request.
The pairing of the authors' styles yields a remarkable result: interesting portraits from Reuter, often quite telling in both their framing and the various detritus of a person's life and job visible in the background, and accompanying text rendered nearly transparent of the interviewing process by Crone, which shows a deft hand both in the questions asked and the transcription that essentially edits him out of the picture. Left to stand on their own, most of the people profiled in the book know exactly how to tell their own story, in memorable language — a fact that might surprise many of them.
Even if you think you know the Lou like the back of your hand, you'd do well to pick up a copy at your favorite local bookseller, and see if you don't uncover a few previously unknown gems. Would-be groupies can even seek out some of the more public workplaces on their own, thanks to general neighborhood descriptions included in many of the introductions. My only quibble with the project is the odd title; due to our own mental divorce from the Mississippi, many would-be readers might not even recognize "Portraits Along the River" as a book about St. Louis.
The book is the second volume from St. Louis-based William and Joseph Press, who publish on a timetable quite resonant with the work ethic of this particular worker: "publishing when we feel compelled." Based on the strength of this second outing, we'd expect more compelling material soon.