The believers in the Big Event renaissance of St. Louis were surely smiling on Sunday, September 29, as the Rams and Cardinals brought more than 100,000 spectators into Downtown — 40,000-plus at Busch, for a season-ending Cardinals' win; 65,000 disgruntled Rams fans shuffling out of the Dome after a loss to the Cowboys.
A few miles to the west, a pair of college soccer games were kicking off in Midtown, to far less intense audiences. Just prior to 1 p.m., the Harris-Stowe women's team was knocking it around the pitch, a few minutes from game time. And, just up the block, SLU's women were readying themselves for a Conference USA game against South Florida.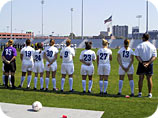 Under clear skies and with temps in the mid-80s, it was a picture-book day to play — or to sit in the stands and take in the action. SLU's team, since its inception a half dozen years ago, has been one of the best-drawing teams in the women's game, annually in the top ten in attendance. This game, though, was certainly touched by the games Downtown, casual fans going there or staying home to watch the pros.
In the stands, then, you had the usual allotment: parents, siblings, youth teams, a few students, plus some family members traveling in to support the opposition. It's a calmer environment at a college game; the constant barrage of advertising, jingles and piped-in pop music is virtually nil. The promotions and away-from-game disruptions are minimal during play: just once, cheerleaders run across the grandstand with a pizza; the PA announcer gives a few updates on upcoming games; music is killed, save for the pre-game and half-time interludes.
St. Louis might not be the soccer capital it once claimed to be, but there's still talent here. And every fall, at scattered colleges across the area, you can see the game played at a competitive level, for a low cost.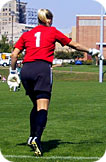 Don't take our word for it. Take a chance on the following games at SLU, the only Division I college program in our area, which features a top-notch, urban venue in the Hermann Stadium:
Women's remaining home games: Sunday, Oct. 13 vs. Marquette, 1 p.m.; Friday, Oct. 18 vs. Western Illinois, 7 p.m.; Sunday, Oct. 20 vs. East Carolina, 1 p.m.; Friday, Nov. 1 vs. Charlotte, 7 p.m.
Men's remaining home games: Wednesday, Oct. 2 vs. Eastern Illinois, 7 p.m.; Saturday, October 5 vs. Furman, 7 p.m.; Wednesday, October 9 vs. Air Force; Saturday, October 12 vs. Cincinnati; Wednesday, October 30 vs. DePaul, 7 p.m.; Saturday, November 9 vs. East Carolina; and the C-USA Tourney, Thursday-Sunday, November 14-17, times TBA.
Call 314-977-4SLU for details on any contest, or punch in www.slubillikens.com.
Oh, yeah, on the 29th? SLU won, 4-0. A fitting conclusion to a pleasant afternoon in the sunny Hermann stands.