Historically, museums of all types have been fascinated with the notion of discovery. Countless exhibitions have attempted to capture that grand idea of discovery — discovery of new lands, new resources, new ideas, and new understandings about life around us. All of these ideas appeal to our imagination, our fascination with the notion that if there is a question, there is an answer to be found; if there is an unexplored land, someone heroic will explore it; and if there is a problem, human energy and creativity will discover a way to solve it.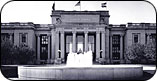 But discovery is never simple. In fact, this word has two somewhat distinct definitions (at least according to Webster's dictionary). The first definition appeals to that grand idea of discovery, often praised in museum exhibits about well-known explorers and scientists. This definition is "to make known or visible." It offers to us the idea of finding some concrete answer "out there." In this explanation, discovery is often one way — someone finds out something or uncovers something once unknown to a majority of people, and shares this knowledge with them. The second definition can be interpreted as being quite different. It is "to obtain sight or knowledge." Thinking about discovery in this way somehow seems more personal and more profound. "To obtain sight" offers us the idea of true understanding, of eyes finally open to new ideas and new knowledge. This definition of discovery seems to be a two-way street of communication between the "discoverer" and "who" or "what" is being uncovered and seen for the first time. Presumably, when one discovers in this fashion, one becomes changed. New sight enables new thoughts, new beliefs and new attitudes.
After that terrible day on September 11th more than one year ago, the Missouri History Museum wrestled with how best to respond. As a public institution that houses collections of Lewis and Clark, the first settlers of the St. Louis area and documents from the Louisiana Purchase, we have always been comfortable highlighting that first definition of discovery; but we realized, in light of such a great tragedy and challenge for this nation, we would need to push things further if we were to be a place that fostered the obtaining of sight — discovery that was more personal and more meaningful.
The Missouri Historical Society listened and worked closely with those around us, and came to realize that what people seemed to want most was a way to discover more about that part of the world which now seemed intimately connected with the United States. Questions about Afghanistan and its history and culture were raised as we all struggled with how to interpret and understand the terrorist attack and war that would follow. The museum put together a Community Response Series. These programs, entitled "When the World Spoke Arabic: The Golden Age of Arab Civilization," featured scholars, film documentaries and traditional Middle Eastern food in hopes of bringing people together to learn more about the culture of the Middle East.
With the success of this series, those who organized the program decided to try and combine this exploration of Arab civilization and culture with the long-running St. Louis Urban Forum program. For over a decade, the Urban Forum has featured speakers (both national and local) who were brought in to discuss some compelling aspect of urban life — what it means to live, work and play in an urban environment. Both of these series share an important goal, namely to build and foster relationships among people who live in the St. Louis region, and to encourage an appreciation for the world in which we live. This combined effort is named DISCOVER-St. Louis Communities.
Much like the Urban Forum, the new Discover series will feature monthly programs (usually on Tuesdays and Thursdays). These programs will cover a number of themes (Community, Fashion, Food and Tradition, Folklore, Freedom, Architecture and Environment), which will offer us insights into the world around us, and the multiple, complex and interconnected communities in which we live. The fist event, held on the anniversary of September 11th, featured a day of programming which culminated in a memorial concert on the front lawn of the Missouri History Museum. It was a somber way to begin the program, yet it conveyed the hope that we (St. Louisans) build "social capital" each and every time we come together as a community.
On Tuesday, October 22 at 7 p.m., the nature of "community" will be our topic, as we view the controversial Spike Lee film Do The Right Thing. Cliff Froehlich, Executive Director of Cinema St. Louis (formerly St. Louis International Film Festival) will be on hand to lead an engaging discussion about how we relate to one another in a messy, chaotic, urban environment. In the coming months, we will feature a talk on global fashion with Cathy Newman, author of the beautiful book Fashion and writer for National Geographic Magazine (November 5). And on December 3, Lynne Rossetto Kasper, host of NPR's The Splendid Table, will appeal to our sense of family, tradition, and taste as she asks, "What is American cuisine?" These upcoming months will also feature eclectic musical performances, to be announced soon! And then, we will head into the spring season...
The Missouri Historical Society invites you to join us in this process of discovery! To be added to the DISCOVER mailing list, please send an e-mail to akd@mohistory.org or call 314-454-3113.
Angie Dietz is a Museum Educator for the Missouri Historical Society and graduate student in the American Studies Dept. at St. Louis University.