I recently found out, here at the leathery age of 36, and mostly due to my deficient education and lackadaisical attitude toward critical theory, that postmodernism, as defined by the architectural critic Charles Jencks, began in St. Louis on July 15, 1972 at 3:32 p.m., when the government blew up the Pruitt-Igoe housing complex.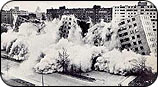 I was six when Pruitt-Igoe met its demise and didn't fully comprehend the significance of the moment. I do remember seeing the video (or was it film back then?) on the evening news. My reaction: That's so cool. I was a boy, and I liked things that went boom. I also remember that as a child I didn't like big, ugly, heavy looking buildings — I had an aversion toward brutalism before I knew that was the term to apply. I've theorized my personal narrative about big, ugly buildings was Seussian in nature, an early attempt at critical theory for children that could be applied to all structures, people, and places: dense and serious — mostly bad; floppy and loud — mostly good. God, if only someone had been around to properly commemorate the occasion: "I saw the beginning of postmodernism, and all I got was this lousy T-shirt."
Upon reading Jencks' analysis in a book on postmodernism, my reaction to this new learning was about as simple as it was when I was child: That's so fucking cool. Finally, something to be proud of about my hometown, outside of the success of sports teams and the occasional friend making it big, usually somewhere else.
You see, up until this moment, to me the only thing interesting about St. Louis was the radio stations I listened to from the time I was in knee pants to the day I left for Madison, Wisconsin, in February of 1995. My radio listening — when juxtaposed with the other elements of my life — was a model for the kind of postmodern irony that was supposed to have died out after September 11.
When I was six, I rode with my mom from our home in a "tough" city neighborhood (I grew up on Pershing Avenue in Skinker/DeBaliviere) to Kirkwood, where she taught eighth grade English, and I attended the Lutheran school across the street, Concordia. My mornings in the car with my mom were spent listening to Doug Eason. "Doug Eason/in the morning/Kay-ATZ/KAT-Zeeee"
It's hard to explain how utterly brilliant that station I.D. sounded to me. Why should this little ditty, with the Fifth Dimension-sounding voices harmonizing about my morning drive-time hero, be such a lasting memory? I remember hearing Bob Hardy and Rex Davis on KMOX giving me a heavy dose of news, weather, traffic, the morning march and the Mormon Tabernacle Choir, but Doug Eason was the man who would spin up all manner of good jams as I rolled out of the city and into the suburban experience of dogma, grammar, beanie-weenies, and kick ball. Doug Eason's voice was smooth, together, wholly black in a way that evoked the richness of everything that denoted what I liked about who I was. His voice was so smooth and so fresh that even the famously hip French do not have a single phrase to sum up this kind of total cool.
For me, Eason, Bernie Hayes, and later on, Dr. Jockenstein on WESL are voices that pop into my head when I hear, smell, and taste St. Louis. They knew how to seduce the listener into being less fucked-up without spraying the audience with soma-infused music and shock-jock antics. This was back in the day before radio conglomerates and radio programmers, armed to the teeth with demographics and audience analysis, colonized the space. To be sure, KATZ and WESL were commercial ventures, and while I admit I sound a wee bit melancholy, I can say their brand of commercialism didn't feel like today's soulless musical auto-mats.
I learned to reject commercial radio in high school, at Christian Brothers, where lunchtime arguments on music ranged from who was a better guitarist (Pete Townshend or Jimmy Page) to who was a better drummer (Neil Pert or John Bonham). These conversations ceased to have any meaning when I saw The Clash sing "London Calling" on Don Kershner's Rock Concert late some Saturday night when I was a sophomore. It was a four-minute re-education camp for a JROTC dork. On Monday, I found two other friends, both in JROTC, had seen the same video of these cats belting out an anthem that we had been programmed to hate. This was our seduction from gray to light. And my friend, Jeff, the first real punk I knew, a guy who had tried to hip me to all of this earlier, let me borrow some albums and turned me on to KWUR, in all its 10-watt bliss. The signal was so weak that I had put the radio out on the balcony at home to pick it up. It was worth the hassle.
Without knowing it, I started to believe that race-and-music correlation was a social construct by which the music industry laid a heavy hegemony on us all. You, black kid, here's Earth, Wind, and Fire and KMJM. You, white kid, here's Rush and KSHE. And so what do you with the multi-racial aspects of Two-Tone and white kids who groove on Marley? Is Bad Brains a "black band" or a "white band"? Can't index it, then there's no room for that shit above 92 on your FM dial. (Wouldn't it be nice, here in the 2000s, if an '80s revival station played "I against I" or Fishbone's "Party at Ground Zero"? You know, just to say, "Hey, here's something you didn't hear.")
Here I was, the JROTC geek, the one class I consistently got As in, the place where I earned a marksmanship medal for firing an M-16 with great accuracy, and I didn't see the incongruity and humor of me calling KWUR and begging them to play The Specials or The Jam or XTC. And not only did they honor my request, the DJ would spin up a whole set of ska or punk. The beauty of no programming, where eclecticism appeared to be the norm. I didn't know about the politics of the station, the in-fighting, the nefarious activities until I recently read about the shenanigans on the station's Web site. When the station went dark in 1982, I thought my head would explode.

I also listened to Pipeline on KWMU, read Jet Lag, saw bands at the Casa Loma Ballroom, and flipped the stacks of records at West End Wax and Vintage Vinyl, eavesdropping in on conversations of much older and hipper folks than me only to repeat them to people as proof that I knew what I was talking about. I didn't feel cool back then. I finally felt like me. So much so that I traded the relatively lush life of CBC for McKinley, a dying public high school with a state-of-the-art video production facility.
Later, when in college in the late 1980s, I found myself on the other side of the mike doing the Underexposed from midnight to five at WSIE. I worked for free and it was hard queuing up a Alien Sex Fiend track at 3:45 a.m. on a Saturday morning while the rest of the world was drunk or asleep, but the perks were solid (concert tickets, promotional records and CDs, an audience). Then one day, in the spring of 1989, the show was cancelled, its owners, SIUE, deciding that a 24-hour jazz format was the way to go. I was pissed. Then I started picking up what was being put down: Coltrane, Monk, Bird, Coleman, Miles, Mingus, Dizz, the Ahmed Jamal Trio and Jamal by himself, the Modern Jazz Quartet, Oscar Peterson ... all that music that didn't have a home above the 92s, but deserved so much respect, so much attention. And I had a chance to listen to Leo Cheers, the man in the "red vest," and ask him foolish questions, and he was kind enough to answer them without prefacing it with, "What a stupid question."
After college, there were some days and nights at KYMC, once again for free, and many nights at the Post Modern Radio Network, sweat equity and a chance at mogulhood, before I hung up the earphones and went into print journalism.
I still have an affinity for "left of the dial" radio. In fact, when I drive down for short weekend visits, I try and time my arrival to coincide with when "Ska's the Limit" on KDHX hits the air. It's nice to know that in a public space dominated by corporate voices conditioned toward blandness and juvenile sexual innuendo, there are people struggling to play what deserves to be heard and speaking about things that haven't been scripted, tested, and approved.