Gracie poured drinks at the Club Paladora, a snug, dusky tavern on South Grand Boulevard at Bates Street. One evening, serving a house of one, she mentioned a bar she'd owned near North Grand and Dodier.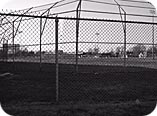 "We did a good business when the ballpark was there," she said. "My husband and I lived nearby. Then in 1971 we moved. We sold our house for $500."
Ma'am?
Perhaps you dropped a zero.
"No. It was $500," she said. "It was a bad time. We had to leave. There was one fellow in the neighborhood who would buy your property. Everybody sold to him."
Just five years before, until May 1966, Grand and Dodier boasted Busch Stadium, home of the St. Louis Cardinals. They called it Sportsman's Park before 1954, when the St. Louis Browns of baseball's American League owned the house. The Cardinals — nearly always superior afield — were mere tenants of the lowly Browns. Busch, then, became the name when Anheuser-Busch bought both the stadium and the Cardinals, and the Browns became the Orioles in Baltimore.
I sat at Busch Stadium twice. First in 1964, on a sun-splashed day when the Cardinals defeated the Houston Colt '45s. The guy taking tickets asked my father, "Is he under 6?" — and the answer being yes, I was told to duck under the turnstile.
Walter Bond, who later died of leukemia, played left field for Houston, and his back side was the closest object to view from the left field bleachers. His teammate, Bob Aspromonte, hit a home run that day, which landed 20 feet to the right of my father and me. A good boy, who knew how to sit still, I watched folks scramble, spilling full paper cups of soda and whole megaphone-shaped boxes of popcorn, in a fight for the ball. Amazing, to my eyes.
"Next time we'll be closer to the batter," my dad said. And when we returned to the park, in 1965, we sat in box seats. Not so close to the batter, but six rows in back of the Cardinals bullpen. The pen ran along the left field line and the pitchers and catchers sat in an above-ground shelter. Through a mesh window in the back of the shed, you could see the heads of Don Dennis, Hal Woodeshick and other footnoteable pitchers.
Both Willie Mays and Willie McCovey homered that day as the Cardinals lost to the San Francisco Giants. And less than a year later, the Cardinals had skipped south into new Busch Memorial Stadium.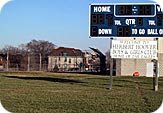 Last week, I took a lunch to Grand and Dodier, and I walked the perimeter of the old park: from Grand to Dodier, down Spring and up Sullivan. Today, the plot seems tiny. Surely, someone shrunk it. The Herbert Hoover Boys & Girls Club sits there now, brightening a challenged neighborhood. But while kids play ball on the same land trod by the Cardinals and Browns, you can hardly believe this space once cradled a two-tiered, 35,000-seat ballpark.
I thought about Gracie. She and her husband sold the Club Paladora a few years back. At the time, as now, properties in the South Grand neighborhood ran from around $35,000 to more than $100,000. I'm confident Gracie and her man got a fair price.
But I wondered: How much are memories worth? Just the random recollections of a home, a tavern, some home runs and spilled popcorn. And what are they worth when a neighborhood panics?
In 1971, around Grand and Dodier, folks dropped their memories, and all that surrounds them, for $500.
Sold! To the one guy around who would buy them.
Thomas R. Raber lives near Heine Meine Field.
Cathi Caby is a St. Louis native who resides in the lovely Soulard area with her two crazy cats, lunatic for a pup and loving husband, Doug. She works for the St. Louis based AVALA Marketing Group so that she can support her active interest in photography. In her off-time she enjoys a nice pint of Guinness, great music and a good game of pool.