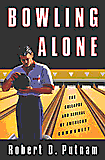 Among a certain subculture — call them the civics wonks — all you have to do is say the phrase "bowling alone," and there will be understanding nods all around. The phrase refers to a book published in 2000 entitled Bowling Alone: The Collapse and Revival of American Community, by Robert D. Putnam, a sociologist and political science professor at Harvard University. Putnam's central thesis revolved around a single, almost arcane bit of trivia: Given population growth, more Americans are bowling than ever before, but league bowling has plummeted in the last ten to fifteen years.
The rest of Putnam's 500+ page book is devoted to exploring the idea of a diminishing store of what he terms "social capital," that is, strong social networks and the attendant goodwill, reciprocity, trustworthiness and sense of togetherness that can lead to collective action. Putnam went on to cite innumerable examples of the subtle and not-so-subtle ways in which Americans have lost an amazing amount of this social capital just within the last several decades (e.g. the number of times per year that Americans entertain friends at home has dropped by 45% since the mid-1970s; people are 25% less likely to cast a ballot in national elections than they were in the mid-1960s. And so on, and so on.)
Now, a report called "Better Together," which documents the positive developments in American civic engagement, has been issued by an ad-hoc think-tank group called the Saguaro Seminar. It's an answer, in some ways, to Putnam's book, but it wasn't put out as a sort of dreamy, glass-half-full retort: Putnam himself was instrumental in pulling the group together. It's a diverse group, including such notables as author William Julius Wilson, former Clinton staffer George Stephanopoulos and E.J. Dionne, a columnist for the Washington Post. The group of 30 folks from political, social, religious and professional backgrounds set out to study and report on the state of civic engagement in America, and to make recommendations for bolstering it.
What they found was American at its best, a nation like that which French observer Alexis de Tocqueville found in the 1830s, when he noted that, "Americans of all ages, all conditions, and all dispositions constantly form associations."
In Minneapolis/St. Paul, a group called Twin City Transplants (TCT) was formed in 1990 when one lonely young recent arrival to the area put an ad in a local paper advertising a gathering of young professionals, hoping to meet others like herself and form a supportive network. At that first meeting, 30 people showed up; now, 11 years later, the group numbers around 500 members who engage in activities from happy hours to bike tours to lectures.
The Roadside Theater troupe (RST), in Whitesburg, Kentucky, travels around the United States conducting "story circles," in which members of a community gather and tell their stories to each other with the help of a RST facilitator. These stories are both the raw subject matter from which RST actors create moving plays and a means of identifying important issues for discussion by the community itself.
Do Something, a nationwide league of young people in grades K-12, comprises kids who believe they can make a real difference in their communities, both in setting the agenda of issues important to them and in organizing and taking action. Under the Do Something umbrella, a fifth-grader in Wisconsin organized a fund drive to benefit the state's Waterfowl Association, raising $1700 by appealing to each student in 400 elementary schools around the state to contribute one penny.
The report is a fascinating snapshot of the many kinds of civic renewal efforts taking place all over the country; it also offers concrete suggestions for building social capital in the workplace, the arts community, politics and government, religious institutions and schools, youth organizations and families. View it online at www.bettertogether.org.
To get you started: have family dinners; run for public office; get to know the clerks and salespeople at your local stores.
And, of course: form or join a bowling team.