The Urge, "Bust Me Dat Forty"
(no label; local release)
The Nukes, "State of Missouri"
(World Champ Recordings)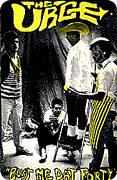 For years, the first Urge cassette was a little milestone of the band. Long out-of-print, the cassette would occasionally pop up in a local used bin (briefly) before being snapped up, either by a collector searching for the piece, or someone canny enough to realize the windfalls of e-bay.
The band's cracked that covert edge, though, re-releasing the 1989 cassette in CD, with a digital remastering and essentially the same artwork. Needless to say, changes have come for the group in those 12 years, with original members Pat Malacek (guitar) and Jeff Herschel (drums) represented here on eight tracks that still hold appeal for the band's older fans.
In particular, "Territories" and "Know What They Say," harken back to a gentler palette of tones, particularly from Malacek. It's not a softie record, though: "Anthem" and "Pain" would fit seamlessly in with some of the band's newer cuts.
A neat blast from the past. And, since the band owns this material, not a bad business move, either.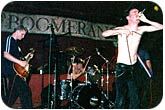 The Nukes, erstwhile St. Louisans themselves, check in with their latest work, "State of Missouri," a noted departure for the group. Though their recent Christmas "return" show featured the usual slate of spit-and-vinegar punk, this album chucks the aggression out the window, focusing instead on a spare style with almost exclusively acoustic-based numbers. Confounding even more: a few cuts hint toward country, with horns and keys popping 'round for a visit.
To their credit, the album may wind up being their most complete; certainly in terms of songwriting there's a marked jump forward. Here, Packy Reynolds is forced to drop the antics and sing, which he does in nice form; drummer Bryan Marye adds a dose of harmonies along the way, along with touches on piano and guitar. Recorded to 8-track "in basements, kitchens and bedrooms," the brief album (11 songs at less than 30 minutes), is a relaxed and comfortable ride, even gentle.
As a career move, it's perplexing, though. After all, it doesn't sell the band's spirited live show. But it does establish the group as a team far more diverse than they've long let on. No court jestering, here. Instead, unabashed sincerity.
Who knew?
---
"Seeking St. Louis: Voices from a River City, 1670-2000"
Edited by Lee Ann Sandweiss
Missouri Historical Society Press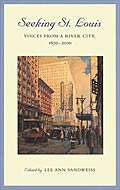 Even discounting a compact bibliography, this volume checks in at over 1,000 pages. A piece of work that'll take up a goodly space on your bookshelf, this is a read that'll obviously demand repeated visits, rather than a concentrated attack.
And why would you want to take it all in at once?
A work of rather-intimidating scope, this tome finds a remarkable range of writers tackling subjects both near to our hearts and long-forgotten. Charles Lindbergh discusses the money-gathering that needfully took place prior to his most-famous flight. Poet Eugene Redmond salutes Jackie Joyner-Kersee. William Tecumseh Sherman sketches out the machinations of the Civil War.
Take this book: a heavy, worthy piece of work, over 10 years in the making. It's hard to imagine anyone doing more justice to the history of this region than Sandweiss, and her core of contributing editors. Though priced near the $50 mark, no serious fan or scholar of the City should consider that price too steep
While many of the names found in "Seeking..." are famous, this is St. Louis, after all. You'll come across someone you know, if one or two generations removed. For me, a mild chuckle came at seeing an excerpt of Glenn Savan's novel "White Palace," later remade into a rather average Hollywood flick. I recall Savan working on the book, while waiting tables at the Webster Grill & Café. Take it from who'd remember: he didn't tip the busboys all that well.
Ah, the little things in life.
(And a special note must be made of the cover, featuring a painting, "Seventh and Locust," credited to Frank B. Nuderscher in 1927. A glimpse of a bustling downtown, streets full of people and traffic, is enough to give you pause. This book's about nostalgia, yes. And some hope for the future? Ideally.)