Paul's Monday Movie Nights
At Frederick's Music Lounge
4454 Chippewa
Each Monday, 7 p.m.-1:30 a.m.
No cover, no phone, 21-up only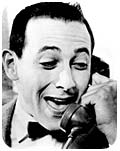 If you drift in at the wrong moment, you might wonder where you are: a South City bar?, someone's basement rec room?, another planet? After all, regulars watching "Pee Wee's Playhouse" can be a pretty intimidating lot. Eyes focused on the telly. Ears perked for the next airing of the "word of the day," followed, of course, by a round of cheers and shouts. The only movement in the room is the nervous pacing of bartender Paul Stark and hands reaching into freshened bowls of popcorn.
The brilliant, sublime and surprisingly adult "Pee Wee" is the centerpiece of Paul's Monday Movie Nights at Frederick's Music Lounge, a club that's gaining steam as one of the must-hit places for those bored by the usual pub fare. And there's no night like Monday to sample the room, though it'd be nice if you didn't talk too loud, y'know?
After all, people are there to take in fine cinema and the great programs of modern comedic television, like "Police Squad," "The Young Ones" and "Monty Python's Flying Circus," all of which have graced the three Frederick's screens in past months.
The first film this month is the Ramones-fueled classic "Rock'n'Roll High School," which'll play on Monday, Feb. 5 at 10 p.m. Check the Fred's site for full details.
Keep your voice down and your hands outta my popcorn, and there's no problems, okay?
---
Human Rights Watch International Film Festival:
Winifred Moore Auditorium, 470 E. Lockwood
Tuesdays in February (and March 6) at 7 p.m.; all-ages, $4-6
Featuring a heavy month of programming at the venerable Moore Auditorium, the Webster University Film Series sees the return of this acclaimed run of films, with Tuesdays booked through March 6.
The first installment is on February 6, with the 1998 work "Bye Bye Africa", described thusly: "'Bye Bye Africa' is a reflexive docu-drama based on the story of a Chadian film director now exiled in France. Upon returning home, he discovers the faltering state of the Chadian film industry. With the former projectionist of the Normandie Theater, he goes all over town to document the cause of cinema's decline, but ends up discovering how his own filmmaking affects the local community."
Several of the works in the series, this one included, are relatively compact, running under 90 minutes. Generally, though, the intensity of the films match the brevity. Tied to a class at the University, these films deserve a wider than student-only audience.
---
Cinema in the City: "Beauty and the Beast"
Beatnik Bob's Café at the City Museum, 15th & Lucas
Wednesday, February 7, 7:30 p.m.; $4, all ages
This month's installment of the wonderful Cinema in the City series features the 1946 version of the tale, directed by Jean Cocteau. Those who've seen this English-subtitled work hail the movie for its lovely cinematography and unhurried pace.
The venue (full of doodads, wacky snacks and other, assorted fun) is worth the price of admission alone. Doubling the ambiance with a motion picture? See you there!
For more info on both the above events: www.webster.edu/filmseries.html.
---
The Potomac Accord
Rocket Bar, 2001 Locust
Wednesday, February 7
The Potomac Accord creates music that's spare and angular, repetitive and trancey. Quite lovely music, really, able to be enjoyed at any volume.
On a four-song disc cut live, on-air, in the studios of KHDX, the group takes four tracks and allows them to stretch and meander for nearly 40 minutes. The complete opposite of a jam band, though, the group's song lengths indicate precision and care, not sloppiness and wankery.
The Potomac Accord consists of: Andy Benn, guitar, keys and voice; Chris Calvert, bass; and Jerry Green, drums and percussion. The group has also been working with a violinist, so that unit could emerge live soon. Or not.
If that latter's the case, it'd be okay. The tension created by just the three core musicians more than suffices. If another instrument were added, surely these guys would know how to work it in with a light touch. Overall, the vocals sit gently in the mix, never overwhelming. The Potomac Accord is reminiscent of Spain, perhaps, or Lanterna.
Were they to call Chicago home, surely they'd already have two albums out on Drag City, playing gigs with other indie rock kings of quiet. As it is, take 'em in here, at one of their infrequent gigs. See if you can talk them out of a live disc. Surely, you'll like it.
This music's maybe best saved away from the clang and clatter of a bar, anyway.
---
Jess Withington: Photography
Curve of the Earth, 3111 South Grand
Thursday, February 15, 7-9 p.m.

Photographer Jess Withington offers up another slice of her off-hours work at a South Grand venue. After two recent shows at Mangia Italiano, her style is starting to shine through, digitally capturing the nooks and crannies of life in the City, as well as catching friends in various states of whimsy.
And it's no knock to mention that Withington usually lists her work at a nice price, allowing the budget-conscious collector a chance to snap up this young artist's work.
Here're some words from the subject at hand: "It's going to be both color and black and white, 35mm and medium format film for the majority with a few digital pieces thrown in. I'm beginning to tinker with more subtle digital manipulation and I'm liking the understated approach. There will be about equal parts of portraits and non-portraits (monuments, lawn ornamentation, 'nature'). I'm also working on souvenir notecards and fridge magnets, for the more economical fan."
---
Professional Wrestling at the South Broadway Athletic Club
2301 South 7th Street
Saturday, February 17; all-ages; $6 in advance

The regulars check into the South Broadway AC every month, rain or shine. But the tallies at the door suggest that the real hot time for pro wrestling on the South Side occurs during the winter months, when parents drag their tow-headed children down to the matches, rather than sending them to summer camp. Outrageous and colorful, the SBAC attracted a ton of publicity in recent months, from no less than Channel 5 and the Post-Dispatch.
But those who've been going since before the recent surge in the sport are the ones that fuel the energy in this smoky, loud venue, a perfect joint for the grapplers who tangle, month-after-month.
---
Geoff Kessell & the Kickbacks
Frederick's Music Lounge, 4454 Chippewa
Saturday, February 24; 21-up
He's no mild-mannered singer-songwriter when he plugs into the amps at Fred's. After all, this is a drinker's bar. He's gotta turn it up!

Geoff Kessell, out working his latest long-player, "Songs for a Caustic Guitar," is a songwriter who combines power-pop and moody folk rock, blending it with a wry and tart lyrical bent. His earlier work, propelled by the snappiest drum machines since Ultravox, can also be found on a sampler of his past cassettes, called "Musiac," a CD which highlights a half-dozen years of limited-released tapes, live cuts and assorted exclusive tracks.
Toying with the idea of putting together a backing band for a while now, Kessell may just be joined for a few tunes by the headlining Kickbacks on this evening.
For more info: www.geoffkessell.com.