berfunkle (ber' fun-kle) 1. brrr-funkel: chilly; hugging of self while describing bitterly cold weather; 2. ber-funn-cull: the sound a marble makes when dropped into a pool of water; 3. Berf! Uncle!: the exchange between a boy named, Berf, and his mother's brother. 4. an entirely nonsensical term designed to show kids the power and magic of words.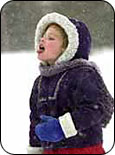 Roald Dahl would be proud. In the week before Christmas, between mall shopping, cookie making and present wrapping, I led a poetry workshop for my daughter's fourth grade class. Our mission was to make holiday gift cards using photos of beaming students catching the first snowflakes of the season on their tongues and noses. My goal was to teach the kids how to package their glee in a poem, to open them to the power of free verse and the magical ability of poetry to convey a moment in time, a feeling, a connection. In this case, one glance at their photos revealed their puppy-like delight that day when their teacher released them to the wonderland that was their snow-covered playground. I flitted across the room reading examples and expounding on the wonders of poetry. No commas! No semi-colons! No capital letters! No problems! Sing, dance, berfunkle!
Berfunkle? Twenty blank faces stared at me. "Berfunkle," I explained. "It's a made-up word! You can make up your own words too. Try it!" Clearly, this group did not share my exuberance about poetry, nor did they seem even slightly willing to give it a try. My mind raced. I wondered whether I had talked over their heads. I wondered whether they were truly clueless or simply worn out from endless holiday activities. They stared. They said nothing. Then they took out their pencils and listed words on sheets of notebook paper: white, chill, cold, winter. No schnitzdorfers. No gobstoppers. No whangdoodles. No berfunkle. Would Roald Dahl be so proud?
Last August, a dedicated group formed a not-for-profit known as StudioSTL. Our goal is to bring a chapter of the nationally renowned young writers' program, 826 Valencia, to St. Louis youth and teachers. Founded in 2002 by writer Dave Eggers (A Heartbreaking Work of Staggering Genius), 826 Valencia helps kids, ages 8 to 18, with their writing skills, and supports teachers in their efforts to get kids excited about writing. Simple? Perhaps in theory. In practice, 826 Valencia (named after its street address in San Francisco) offers kids free after-school, drop-in tutoring, writing workshops, field trips and in-school support. Each "826" writing lab features a theme-based store (think pirates, superheroes, time travelers, space explorers, monsters and spies). The one-of-a-kind storefronts help fund free writing services, coax kids inside, and invite curious passersby to browse, to see the magic up close, and to become part of the fun. The concept has caught on. 826 National now manages writing centers in Los Angeles, Brooklyn, Chicago, Seattle, and Ann Arbor.
Imagine a pirate store where mop heads fall from the ceiling on unsuspecting visitors. Imagine a "hand of shame" that points to adults who overlook commas and misuse colons. Imagine the grinch-like voice of "Mr. Blue," who growls about deadlines, and then manages to find something likeable about each student-written piece. Imagine writing for a dog, rather than for a seventh-grade teacher. Imagine the power of "creative whining," as opposed to a persuasive essay. Imagine penning a piece for a collection of student writing, in which authors Amy Tan or Isabel Allende, or former L.A. Lakers coach Phil Jackson, contributed the foreword. Imagine.
And why is all of this "fun" necessary? Because at 826 writing labs, words are about more than lead pencils and smudges on blank, blue-lined pages. The plain truth is — as I confronted it that day — some of our kids no longer have the benefit of "berfunkle." In a world of mind-numbing assessments and daily oral language and lattice method multiplication, 826 invites kids and community to come together in a place quite unlike any other. For kids, it is a safe harbor, a creative haven away from school and home that is all about giving them a sense of ownership. Ownership of place. Ownership of thought. Ownership of voice. Ownership of a writing center where help is free and appointments are not required. It is a place where ideas are celebrated and seldom questioned, regardless of whether someone feels like naming a pole "Bill," or whether the essay is really due tomorrow. It is also a community place where volunteer writers, artists and do-gooders — more than 3,000 of them in San Francisco — come together to share their stories and sit down face-to-face with a child to give a little something back. 826 is a place that shouts: "Whatever you think, whatever you feel, whatever you have to say, say it here...in a poem, in a script, in a movie, in a book. Share, embrace, talk to a dog...all of it, all of you is welcome here."
In December, 826 National began accepting applications from start-up groups who wish to start affiliate chapters in their cities. The process is long, complicated and competitive. StudioSTL filed its application earlier this year. It's a strong and well-reasoned plan that details our need and our resources (some might even dare to call it a powerful lesson in "creative whining.") We'll continue our journey to build a community writing center based on the 826 model. And though confident of our ability and optimistic about our chances, we are committed to building a St. Louis writing center, either independently or as an 826 chapter. Already, more than 100 writers and artists and illustrators have voiced support for our project and our mission. Area educators have asked us to pilot programs in their schools. And our storefront theme? Brilliant.
Yes, Virginia. There are words to that song, in that movie and on that stage. I think of 826. I think of the 826 writing lab I recently visited. I remember the staff and their genius, and what they so humbly give to teachers and to kids. I think of my daughter's class and I imagine the possibilities. I remember the boy who smiled at me on the second day of our poetry workshop and told me about feeling "snowful." "Snowful?" I asked, wondering whether he intended "soulful." "Snowful," he said, "You know? That feeling you get when it first snows and the snow is everywhere and you're so, so happy?" Ah, yes. I know. Berfunkle.
Elizabeth Ketcher is an attorney, formerly in private practice. She now works full-time with Studio STL to develop a one-of-a-kind writing studio for kids and community. She loves inquiries and offers of help (email eketcher@ketcher.com or visit the Studio blog).