The idea of establishing an art studio for children began with the simple image found on a postcard. It was a photograph of several children, each wearing the traditional childhood smock (an oversized oxford worn backwards), throwing paint upon a wall clearly intended for this sort of treatment.
Pair this image with a stroll down South Grand Boulevard and you have the birth of the concept: This neighborhood needs an art studio. Why can't we look into this storefront and see the image of that postcard happening in real time — right here in south city?
*****
Had it been not been 1999, this idea might not have crossed my mind, as earlier on, I was immersed completely in music and had no appreciation for the visual arts. In 1997, I left my pursuit of a music education degree once I realized how fulfilling it was to spend time painting. One blushing example of my visual art ignorance is to admit I had no idea who Jackson Pollack was prior to my first class in Webster University's art program...what a world unfolded!
It was September of 1999 when the words — South City Open Studio and Gallery for Children — first came together. BFA candidates at Webster were to submit the beginnings of their artist's thesis. I submitted a business proposal, figuring I had better explain how I planned to use the abundance of knowledge gained during three years in art school. I knew I would use this knowledge to provide a way for young children to experience similar benefits of creative expression.
My "thesis" was rejected. I headed back to the drawing table to compose words upon my actual work. This is an entirely different story...
After graduating in May of 2000 with a BFA in Painting, I landed a job as the daily substitute at New City School. New City School boasts the largely incorporated theories of Howard Gardner's "multiple intelligences" (MI). In short, this concept advances that every individual maintains strengths and weaknesses in (currently) eight categories. These eight categories put simply are word smarts, number and reasoning smarts, picture smarts, body smarts, music smarts, people smarts, self smarts, and nature smarts.
This is a fabulous concept. Regardless of our weaknesses, each of us surely excels in at least one of these areas of intelligence.
Two years working in this New City environment allowed me to gain a true appreciation for MI, develop my business plan, begin establishing 501(c)(3) not-for-profit status — which required identifying a founding board of directors — and to begin scouting South City locations. The flexibility of substitute teaching also provided time for me to participate in the Regional Arts Commission Community Arts Training.
In early 2002, following several failed attempts at locating SCOSAG on South Grand, (just north of the pawn shop and at the now New Dawn health food store), I was informed of Tower Grove Park's relocation of their main office. After several days of contemplation following my initial introduction to the 19th-century South Gate Lodge, I met with park director John Karel and then-deputy director David Weber to discuss a lease agreement for the simmering concept of a children's art studio.
They named the rent, I threw a fundraiser, SCOSAG's very first: Crowe T. Kids. Through the generous support of southside rock'n'roll bands and southside restaurants, we raised a modest $1,600. We printed your basic informative document (two pages, 8 x 11, stapled) and opened up shop in June of 2002 with a handful of students. In time, class sizes increased, numerous "regulars" were utilizing the open studio hours, homeschool classes were a hit, and our inaugural Super Summer Fun Camps 2003 were in large demand by the end of the summer.

Recall the eight multiple intelligences. This concept blossomed at the core of the SCOSAG teaching philosophies. Since we have found our home in such a beautiful park, we are able to embrace the nature surrounding the South Gate Lodge, utilizing it constantly for a variety of activities. We are able to let children run and race around trees and each other. We can put kids in groups of varying ages and challenge them to work together and solve creative problems. We can encourage children to give bookmaking a shot and fill each page with an invented story or dream. At the core of all artistic practices exists a clear relationship with problem solving, spatial and logistical thinking. And, at any point during their participation in these activates, children can take a "breather" by way of an encounter with a ceramic rattle, strumming a guitar, pressing the keys of an organ, and thumping away on a child-made thumb piano.
Jump ahead to spring 2004. Mission: raise funds to nurture organizational growth. Enter Margie Newman and Alan Brunettin, (then of Gallery Urbis Orbis), and their Chicago-transplanted concept of bringing together artists and patrons to raise not only funds but also an appreciation of the creative process. Allow me to introduce Wall Ball, an event that is intended to bring together a diverse population of individuals who are collectively responsible for the promotion of creative expression as a means to a higher quality of life — whether it be though art education or the most basic appreciation, displaying a work of art in one's home.
It has become clear that the St. Louis community truly believes in the concept of the arts making our lives more fun and curious to live. It has demonstrated this as over a half-dozen businesses and organizations have stepped forward to organize some type of event that, in the end, will benefit SCOSAG's mission.
Proceeds from last year's installment of Wall Ball funded our "Forest Park Southeast Expansion." Since then we have been providing free pottery instruction for the children in Forest Park Southeast three days a week. We have also arranged once-a-week pottery classes for other not-for-profit groups such as The Shalom House, Lydia's House, Center for Survivors of War and Torture Trauma, The International Playground and Missouri Department of Mental Heath, among others.
There was no way we could have known that SCOSAG would explode into a major operation. Its annual operational budget has more than doubled since its first year in operation. Its future is bright, as developments in Forest Park Southeast seem to echo the success of the Potter's Workshop.
What does the future hold for the South City Open Studio and Gallery for Children? SCOSAG longs to exist wherever its services are needed: Neighborhoods where creative outlets are limited. (We have our sights set on Cherokee Avenue.) In circumstances where children are more than a safe walk away from the art center, SCOSAG aims to provide transportation. (Inaugural activity of SCOSAG's Project Transportation will take form this summer, by providing a means of transportation for children from the Forest Park Southeast neighborhood to Tower Grove Park.) SCOSAG aims to collaborate with the countless organizations in St. Louis whose clientele can benefit from hands-on creative expression. And, all the while, SCOSAG is committed to its flexible, grassroots and open-minded approach to strengthening the ties within the St. Louis neighborhood, its families, and its youth through the exploration of the arts.
*****
Celia Shacklett is SCOSAG's esteemed music facilitator. I asked her to share a slice of some of the goings-on during our Super Summer Fun Camp.
"If you would like to know my favorite fruit, just ask me.
My favorite fruit is Mango!
You can eat every part but the seed.
Just squeeze some lime on, and you're prepared to eat!
CHOMP!"
— Scout, age 9
I helped Scout write this song during 2004 summer camp at SCOSAG. It was the second day at camp and the first day that we had a song-writing workshop. Scout's was the first song written that day, and the first of 30 or more written during the two-week session.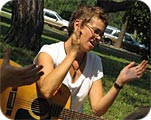 The process is simple: first, we talk about the elements of song. Most songs are made up of a combination of melody, rhythm and lyric. Then I ask the children what songs are about. Of course, the point that we finally agree on (after making an exhaustive list) is that songs can be about anything. Then I invite them to write songs. They often work alone, crafting lyrics about subjects that mean something to them. When they're ready, we have a short workshop, in which I ask them what kind of "feel" or "sound" their song has. Often we talk about a "hook" — a short, memorable melodic phrase.
"We are singing in space, oh yeah,
we are singing in space,
but we don't know what to sing.
Should we sing of fruit or plants?
Fruit or plants, fruit or plants?
Should we sing of fruit or plants?"
— Chloe, age 5
I use a tape recorder to capture their melodic ideas, and the children often teach themselves their songs by listening to the recording and understanding the intention behind their musical impulse. They love to listen to the recordings of themselves and others, and often sing along with playback. The children are very supportive of one another, not only singing along but also cooperating with each other's processes: helping to spell words and honing certain concepts for a more concise turn of phrase.
"I am someone
I am someone
You are someone
You are someone
Watch the wind taking off today
taking a walk, taking a walk today,
listen to the breeze
listen to the breeze go
listen to the breeze blow.
Watch the cars go,
watch the cars go.
Do your dishes, do your chores,
they won't do themself.
You are someone,
you are someone,
I am someone."
— Ariel, age 9
"Be yourself, be yourself, be yourself.
Be yourself. Don't be others.
Be nice to everybody else.
Be yourself together!
We all are different.
We've got to put our differences aside and work together.
(be yourself, be yourself, be yourself)
— Gibson, age 8
Occasionally, a child will approach me with no words written down, just inspiration for a melody or rhythm. In these cases, they coach me on the guitar part and then simply jam along vocally, making up words and melodies along the way. Their fresh and unselfconscious approach to song writing is an inspiring reminder that music is magic, and that making music is making magic, and that we can all make music our own.
*****
SCOSAG and the Potter's Workshop would not exist without the dedication of so many talented individuals including: Carmelita Nunez, F. Abyme McKinley, Jason Wallace Triefenbach, Lyndsey Scott, Tom Dykas, Mark Pagano, Nannette Vinson, and so many others. For information on how to join these fine individuals in their efforts to share the benefits of art with children and adults, alike, please contact us at 314-865-0060. SCOSAG is actively seeking individuals to serve on its various committees and its board of directors.
Jenna Bauer is the founder and director of the South City Open Studio and Gallery for Children.