EVENTS
MetroLink Cross-County Extension Grand Opening
Sunday, August 27
Okay, there's pretty much no spectacle I won't make time for if it's free...and for selected hours on the first few days, Metro opened up the cars on the new cross-country MetroLink route to potential commuters and the gawking curious. (I get to include myself in both those categories.) We parked the automobile at the Forest Park station and hopped on for our first view along the newly reopened Forest Park Parkway, through the mile-long tunnel under the snooty neighborhoods that squawked loud enough to keep the train from running at grade, into Clayton and then the big left turn that takes the line through Richmond Heights, Brentwood, Maplewood and into Shrewsbury. The atmosphere aboard our train was festive: like a rolling block party. The pair sitting directly behind us provided matter-of-fact and yet still awed commentary — "There's Clayton!" "Ooh, I know where we are now, here comes the Galleria!" Most everyone had silly smiles plastered on their faces. Of course, there were plenty of tourists-in-their-own-town, who've probably never ridden Metro before...and never will again. Even a few train enthusiasts found their way into the crowd, though the light rail must be a faint substitute for the real choo-choo. (In proof the marketing's filtered down just fine, a little girl sitting with her mom started shrieking, "Daddy! Applebee's! Applebee's!" when we zipped over the Maplewood Commons. To test the line's viability as part of my transit commute, we hopped off at the Brentwood/I-64 stop and hoofed it to my office building — a journey of perhaps three-quarters of a mile that, nevertheless, was one of the most pedestrian-unfriendly experiences I've ever had. (Pity the fools eating lunch at the Macaroni Grill who might've been spooked to see a group of just-debarked MetroLink passengers crawling their way through the sad strip of lawn that hugs the side of the building.) We went into Trader Joe's and bought some stuff, just because we could, and then trekked across the sidewalk-less parking lots of the ironically named Promenade before boarding the train back to the city. (AED)
BOOKS
"America's Boy," by Wade Rouse
Dutton Publishers, 2006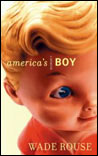 Wade Rouse spent his childhood in the Ozark town of Granby, Missouri — where "everything...is white or off-white — the people, the cars, the clothes, the houses...when you finally see color, it's overwhelming" — and knew from an early age that something set him apart. Rather than being a quintessential Ozark boy (hunting, driving a pick-up truck and so on) like his older brother, Todd, Wade preferred to hang out with his grandmas, talking, cooking and playing dress-up. In this touching memoir of growing up in the '60s and '70s, he remembers a youth that managed to be idyllic and tortured: he scampered around the family house at Sugar Creek and was remarkably close to all of his grandparents, but felt isolated and scorned in the world at large, both for his weight and his emerging homosexuality. From the outset, the reader knows that Todd's sudden death just out of high school had a profound impact on Wade and his family, leading him to decades of denial of who he was; a move to St. Louis eventually paved the way for Wade to come out and become a whole person. In an appearance on KDHX, Rouse said he hoped the picture presented was one of a loving family, whose members were as supportive as they were flawed, in their own individual ways. You can find the book at local booksellers, and learn more about the author at his website; I should also say I'm still partial to Rouse's original title for the book, "Fat Boys Shouldn't Wear Ascots." (AED)
LIVE PERFORMANCES
"Matt & Ben," presented by The Nonprophet Theater Company
Sarah & Abraham Wolfson Studio Theater, Jewish Community Center September 7

It's just one of those alarming mini-statistics that tends to wash over us in these heady, go-go times: more votes were cast in the last American Idol competition than have ever been cast for an American president (and even more than for a Chicago city politician!) Ours is a culture a wee bit obsessed with celebrity (hey, I read Us Weekly on the treadmill, too!), and even though the titular buddies of this title are perhaps a bit less relevant now than when the play was first written and performed in 2002, their friendship and fairy-tale story (just a couple of hapless East Coast kids who hit it big with their screenplay, which they starred in, "Good Will Hunting") has been irresistible as a backstory since their rise to fame. The production, the second in the Nonprophet's first "legit" theater season, starred Margeau Baue Steineau as Matt Damon, and Kirsten Wylder as Ben Affleck (the girls-as-boys is as written by the two female playwrights), and though no one in the audience would've mistaken them for real guys, their physicality, body language and subdued hair/makeup didn't leave me thinking, "Dude, those are chicks!" either. That, in itself, is a strong testament to the acting skill on display: if you're a woman, try taking up as much room (both physical and psychic) as men typically do, say, sitting on the couch. Not easy to do, and these leads made it look effortless. The show was truly funny, though not a laugh riot: the central plot point falls from the ceiling, in the form of a neatly packaged, pre-written screenplay for the movie that would go on to make them famous, which the guys regard with a great deal of suspicion while they decide what to do with it. Some of the best parts came when the friends took turns describing the irritating mannerisms of the other. Admit it — you've always suspected Matt Damon was a bit of a too-earnest people-pleaser. Gwyneth Paltrow, JD Salinger and even J. Lo make actual or alluded-to appearances during the evening, too. The raucous-sketch-show-performed-in-loud-bars background of these actresses was evident, as their volume occasionally overpowered the small, black-box space, but overall, it was a light, pleasant show that got all the elements right. (AED)
FOOD
Eat Me in St. Louis
Ninth and Pine, 901 Pine St., 314-621-6099
Check out the lighting. At least, that's what the owners of this new restaurant would want you to do. The two also-electricians have wired plenty of restaurants in their time, and they always wanted to run one of their own. Their wish came true when they opened this establishment earlier this summer, and they paid particular detail to the elements involving their "other" career.
Ninth and Pine is pretty much a sandwich, pizza and pasta place, with a simple menu and simple atmosphere. The bar just opened at the end of August, and it isn't quite "full" in this writer's opinion since the taps have yet to be installed and the bottled beer selection is limited. But the service is friendly and the food comes out fast.
A sampling includes the meatball sandwich, which was described as "surprisingly tasty" and comes on a toasted bun with chips and a pickle. The house salad is "your basic house," and the servers will insist on making a new one for your too-shy-to-say-anything companion when they realize he ordered it "with no cheese" and they had contaminated it with provel. The toasted ravioli had "good breading," but the accompanying marinara sauce was "a little bland." The veggie pizza, made in an "old fashioned brick oven" was fantastic, very filling for an individual 9", and delightfully crunchy on a thin crust (this coming from a thick-pizza-loving snob). The artichokes upon it seemed to take it the extra step beyond just trying to appease the non-meat eater.
Similar to at least one other downtown establishment, the location is in the name, so it shouldn't be hard to find, although scaffolding currently obscures the 9th-street side of the building, which is being rehabbed. While opening a downtown restaurant is not as pioneer-like as it was 10 years ago, we were still the only diners in the place pre-Cardinals game on a weekday evening. Perhaps this was due to it being new. As the numerous current and future developments surrounding the Old Post Office (just one block north) are completed, maybe this place will be jumping soon. For now, throw some support and give it a try. And, don't forget the lights.
Eat City. (JG)