"A goat is only a goat in the herd." — Senegalese Proverb
And the herd I met in Senegal makes it good to be a goat. — me
Thirty-something days is all the experience I have of the vast continent of Africa — all of that in Senegal in the summer of 2006. During the summer my worldview was stretched by immersion in a culture of unfamiliar languages, belief systems and daily customs, and a lack of material wealth. At the same time, my community was expanded through the generous welcome of a people eager to share their culture and their lives. Trying to capture even this protracted experience of Africa here proves difficult.
Unable to write, facing deadline, procrastination at its limit, I sat to intentionally reflect for the first time since my return. I put on a CD of a musician, Magou, who has become a friend and framed a canvas of Baye Gaye, a painter from Thies who welcomed me into his community. Having been swept back into daily life in St. Louis, I hadn't taken the time to unroll the painting or listen to the tunes. I hadn't let memories of Senegal wash over me.
In June, on the eve of my voyage to Senegal, I had written that, "I hope to return to the U.S. energized by the experience, excited by new relationships, and informed by a new depth and breadth of perspective on the world." Such were my goals for the trip. My imagination of the summer to come was riddled with uncertainty and unknowing. I had no doubt that I would find friends and experiences that would make fulfillment of my goals certain, but I also had no idea in what form that fulfillment would come.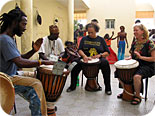 Motivation for the trip lay in memories of collegiate African dance and drumming classes, in tales told by friends who'd made similar journeys, and in the kind faces and voices of West Africans I'd met in the States. Wanderlust was barking; connections to Senegal provided an easy option for its appeasement. Working at a school, my summer was free. I happened to have the cash on hand. I didn't need much more motivation to head to another continent and another culture.
My introduction to Senegal was facilitated by an organization called Senecorps, an American non-profit founded by a WashU grad who married a Senegalese man and dedicated her career and life to introducing Americans to Senegal. Through partnerships with various Senegalese organizations, the group's mission has expanded. They are now in the process of building a community center in the town of Thies, east of Dakar.
The organization's greatest gift to me this summer was an introduction to Bamba Diop, a kind, principled Senegalese man who cares deeply about Senegalese community and creation of opportunity for youth. In Malcolm Gladwell's parlance, Bamba is a connector. With contacts in Dakar, St. Louis (Senegal, one of our sister cities), Thies and even the small village of Saam Ndiaye, Bamba created opportunities to transcend a tourist experience and make deep contact with Senegalese community. Through and with him I was afforded the opportunity to meet musicians, dancers, cinematographers, actors, visual artists and concert organizers who embody a rich spirit of community.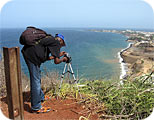 It was Bamba's idea that one of the American participants in the 2006 Senecorps group bring video equipment (hard to come by in Senegal) and work with local artists on a variety of efforts around the country. Though I didn't know it when I arrived, I would find myself working on two primary projects: a music video for the musician Magou and a sitcom in the national language of Wolof, performed by the youth troupe of Soleil Levent, a nationally renowned group of comedic actors.
Based in Dakar during the first portion of my stay in Senegal, Bamba and I worked daily to capture footage to illustrate Magou's music. A passionate idealist, Magou's music is informed by themes of natural beauty, the importance of family, and pride in Senegalese culture and African identity.
From coastal scenes to concert venues, each day Bamba and I sought locations to capture the elements of Magou's life that have inspired the themes of his music. As we explored the labyrinthine pathways that make up the community of N'Gor village, where Magou lives and was raised, I was impressed by the sense of extended community that permeated family compounds built around circular courtyards.
Magou's success as a musician (with a German recording contract in hand, he is one of the few Senegalese I met who enjoys the privilege of traveling abroad) owes largely to this sense of extended community. By organizing to raise money for a guitar when he was young, the community worked to sponsor an individual in whom they saw promise. Magou now gives voice to that community while lamenting the long history of African exploitation extending from the slave trade to current environmental issues. He continues to work with and help younger musicians from N'Gor and believes deeply in staying rooted in his family's historic community rather than leaving for more monetarily lucrative opportunities elsewhere.
Working with acting troupe Soleil Levant in Thies, I continued to be impressed by the community ethic that permeates Senegalese arts. As we worked over the course of several days to film a twenty-six-scene sitcom written and directed by established members of the comedy troupe, the benevolent work of the more established members of the troupe was moving. Actors who had achieved national popularity on television spent long hours coaching and acting alongside young actors who were being filmed for the first time. Chairno (spelling be damned), the leader of the youth troupe, worked tireless hours to ensure that equipment and locations were ready each day. His demanding direction was met with respect as he cultivated camaraderie within the troupe.
Outside of the extended projects on which I worked, the strong community ethic was evident as well.
Early in my stay in Senegal we gathered at the Centre Sociale de Liberte Six, a government built community center in the Liberte neighborhood of Dakar, to view the works of several filmmakers. Working in an intimate environment, cinematographers shared their works and fielded questions. More established filmmakers such as Adams Sie exchanged views with those who were working on initial pieces.

Also in Dakar at another neighborhood community center, we took dance and drumming classes with a group called Africa Matimbo. Drummers and dancers turn out on a daily basis for what appears to be a grueling rehearsal of their arts. Led by a Gambian man named Augustine, they put in long hours in preparation for performances. As guests interested in learning more about the art we were always welcomed.
In St. Louis, Senegal, at the Institut Cultural et Linguistic-Jean Mermoz, we were treated to the sounds of several bands that celebrated the diverse cultures of the Senegalese river delta at a "Best of the St. Louis Jazz Fest" concert. Foremost on the organizer's mind was the hope that one day the musicians who performed that night will have the opportunity to travel abroad to represent St. Louis and Senegal. His excitement at the prospect of one day establishing a musical exchange with St. Louis, MO, was infectious.
Work with Soleil Levant provided entrée into the extended arts community in Thies. There we met with members of Jankeen Art, a community of established artists who have adopted apprentice artists and formed a community center that serves as a common meeting and creative space. Young artists gathered daily in the courtyard to exchange music and artwork.
Our arrival in the village of Saam Ndiaye coincided with a graduation celebration for women involved in the Tostan educational program. The chief of the village presided over a community circle as women of the village drummed and sang the accomplishments of women graduating from the literacy program.
In Pikine, a poorer neighborhood of Dakar, streets flooded by the beginning of the raining season, we made our way to the home of the Amicales de Jeune Wakhinane-Pikine where we met a group of men in their 20s who had founded a center that serves as an education and community center for a segment of the population that lacks such services. Working with little funding and volunteer teachers, the founders of the organization have reached out to international organizations such as the Association Quartiers du Monde to provide opportunities for area youth to interact with a broader international community.
The reality of the strong vibrant sense of community in Senegal, especially in its arts community, was a welcome departure from the images of Africa that are so often provided by the media. This materially poor third-world Islamic country provides significant models as community-minded institutions that routinely and as a matter of a pervasive ethic nourish elements of the community that are otherwise without. In each of these institutions lies an exemplar from which to learn. These organizations stand out as elements of a proud democratic nation that values a strong multi-cultural tradition.
That the people who comprise them have become part of my extended community is something for which I'll long be thankful.
John Colbert lives in the city and shapes young minds.