Okay, you got me. So I didn't actually meet up with Rabbi Annie Belford for drinks and an interview — we did lunch instead. Vegetarian sloppy-joes, to be exact.
Annie is an assistant rabbi at Congregation Shaare Emeth, a Reform synagogue in Creve Coeur. She has been serving at Shaare Emeth for one year and is the youngest member of their rabbinic team.
So, how's a nice twenty-something girl from Texas end up becoming a rabbi?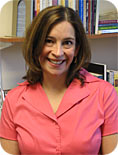 During my junior year of college, I was living on a kibbutz in Israel and working at a screw factory. I'd work in this screw factory for ten hours a day — on an assembly line — doing the same thing over and over and it was really meditative. So I was walking home one day after working in the screw factory and I just had this sense — like, up until then I always thought I'd be an interior decorator or a wedding planner or something — but I just had this sense, this feeling came over me, and it was like, "You're going to be a rabbi," and I stopped in my tracks and I just knew. I stood there and knew. And I was standing there for a while and some of my friends saw me and they came over to me and said, "Are you okay?" And I was like, "Yeah, I'm gonna be a rabbi."
What exactly do you do at Congregation Shaare Emeth? Your official title is "assistant rabbi" and you work with a rabbi emeritus, a senior rabbi, and an associate rabbi... How many rabbis does it take to screw in a light bulb?
Ha ha, I screw in a lot of light bulbs! My job as an assistant rabbi is teaching. I teach 3-year-olds and I teach senior citizens: people of all ages. I teach Jewish traditions and practices and stories. I also work with people who are interested in becoming Jewish. The most important part of my job is just being there, just being present for those in need: people who are sick or have relatives who are sick, people who have experienced death, people who are personally experiencing pain.
What's the best part of your job?
Oh, there are so many. I get to think about God and the meaning of life, what the right way is to live in this world. AND I get to have conversations with the other rabbis here and other clergy people, like my good friend who's an Episcopalian priest, about these things. It's my job to think about these things; it's my job to pray for people. How cool is that?
I know that when I was teaching in the same community that I lived, I couldn't turn a corner without running into one of my students or some of their parents; I had to keep a close eye on myself so as not to accidentally run through the grocery store shouting profanities or make a midnight run to the gas station without bothering to get dressed first. Do you feel like you always have to be on your best behavior, even when you're "off duty?"
Yes! One time I was out shopping, at the mall, and I really wanted to go to Victoria's Secret. So there I was, walking along with my little Dillard's shopping bag, when I ran into an older couple from Temple. As we stood there talking, I just kept thinking, "Thank God I haven't been to Victoria's Secret yet!" But I do think it's good for people to see that I'm human, you know? That I'm a real person who laughs at jokes, sometimes says bad words, and shops at Victoria's Secret.
Tell me more about the social action groups you're involved in and how members of the community, both the Jewish community and the St. Louis community at large, can get involved.
Well, personally I'm on the board of the Missouri Religious Coalition for Reproductive Choice. It is such a privilege to work towards something that I personally believe in and something that my religion supports. My tradition teaches (in Mishnah Oholot 7:6, a text written before the year 200) that a woman's body is holy, more holy than the life that may be growing inside her.

There are also some incredible opportunities to get involved at Shaare Emeth, like SEEDS (Shaare Emeth Effort to Develop Social Justice). SEEDS is a congregant-led effort for social action and social justice. They sponsored this really neat event called "Lobby in the Lobby" where volunteers brought their cell phones and met in our lobby. They called our senators and representatives at the state and national levels and urged them to take a strong public stance against the violence in Darfur.
We also have a group called Keshet that reaches out to GLBT people and families in the community and makes sure that our congregation does its job to reach out to everyone. Last year they did this amazing panel discussion about the book Twice Blessed: On Being Lesbian, Gay, and Jewish made up of a gay teenager from our congregation and his mom and the vice principal of a nearby middle school who's gay. It was really powerful.
So, Congregation Shaare Emeth and the Reform movement are pretty darn liberal. What's the policy on interfaith marriage? Same-sex marriage? Etc?
The Reform movement is very strongly in support of same-sex unions. The association of Reform rabbis, the CCAR, was the first religious organization in the U.S. to come out in strong support of officiating at same-sex unions. Every Shaare Emeth rabbi and every Reform rabbi in St. Louis came out publicly against Missouri Amendment 2 which is so, so, so great. I love that that's a reality here — it's a religious imperative from the Jewish perspective. Every rabbi at Shaare Emeth will officiate at same-sex unions.
As far as interfaith marriage goes, Shaare Emeth and the Reform Movement are very welcoming of interfaith families. As far as officiating at interfaith marriages, the CCAR permits rabbis to do so, although it is not encouraged. It's each rabbi's individual decision. Personally, I'm really conflicted about this. Right now I do not do interfaith marriages, partly because my husband is a Conservative rabbi (they're not allowed to do interfaith marriages) and I don't want to ruffle any feathers. I'm the only rabbi at Shaare Emeth who does not officiate at interfaith unions and I really struggle with this because I believe that there are more connections than disconnections across religions. But right now, at this time, I choose not to officiate at interfaith unions.
If you weren't a rabbi, what would you be doing?
I can't even imagine... Maybe I'd be an animal rights activist or a hospice nurse or a therapist.
What is your dream rabbinic job?
I'm in it. I'm part of a caring congregation where there are tons of opportunities to try new things. We are such a big congregation that is interested in change and I get to be a part of that process. I would love to teach college students, rabbinic students, and do more formal spiritual guidance. I just got really lucky when I came here.
What's your favorite thing about St. Louis, so far?
Everyone here is so nice and I love the people I've met, my friends. I like exploring new things, so I love wandering through different neighborhoods in St. Louis and trying out the restaurants.
What is your favorite Jewish saying/proverb?
It's a prayer. We say it every morning:
Could song fill our mouth as water fills the sea,
And could joy flood our tongue like countless waves,
Could our lips utter praise as limitless as the sky,
And could our eyes match the splendor of the sun,
Could we soar with arms like eagle's wings,
And run with gentle grace,
like the swiftest deer,
Never could we fully offer the gratitude for one ten-thousandth of the lasting love,
Which is your precious blessing,
Dearest God,
Granted to our ancestors and us.
Just the facts, in closing: Rabbi Annie grew up in El Paso, Texas, and earned her undergraduate degree in creative writing from the University of Judaism in Los Angeles. She went on to rabbinic school in New York City at Hebrew Union College and was ordained in 2004. She wanted me to tell you that one of the things of which she is most proud is the three months she spent traveling Europe alone after her junior year of college. Rabbi Annie is a vegetarian and currently lives in Clayton with her husband Ari and their dog Kaylee.