PERFORMANCE
Ulcer, Inc.: "Do Robots Dream of Murder?"
May 31, Blueberry Hill's Duck Room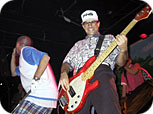 Made up primarily of former/founding members of the Urge (and boosted by the vocalist of the long-ago Life Without Wayne), Ulcer, Inc. have been performing intermittent shows in St. Louis for the past half-dozen years, teasing fans with their only-occasional shows. With the release of the new CD "Meat-Covered Robot," the band put on another spectacle, with their conceit this time involving (naturally!) the arrival of a robot in the office setting. Needless to say, the mechanized worker sets off all kinds of chaos amongst the "office drones," many of whom are regulars in the Ulcer, Inc. lineup.
Even if you're not in love with the group's distinct brand of muscular, knotty, near-metal, the group's flair for an ironic, pageant-style show is evident. They've been laying low over the last year. Hopefully, the arrival of the new disc means they'll come out of their shells a bit more often as Ulcer. The 100-plus people at this show were treated to a truly hilarious show, full of simple stage props, oversized acting and theatrics that perfectly mirror the group's over-the-top lyrics and playing. They're not among the town's critical darlings, and that's a shame, 'cause they are among the best entertainers we've got.
Sullen: Riverfront Times Music Awards Showcase
June 17, Tap Room
What to think of the RFT Music Awards show this year? Well, the room was a funny one, in that people could head into any number of nooks and crannies, inside and out. And that was definitely the case, as Sullen came out and played a rockin' 20-minute set that tested the nerves of some and delighted others. Though audible in their complaints about playing communal gear, the band ripped through a handful of songs from their second disc, "Paint the Moon," which has just been picked up by Chicago's Thick Records. The band, even in their earliest days, seemed to have that something special, and a couple of years on, this bassless-trio is really proving to be a forceful live outfit. Some of the folks fleeing to the patio seating might've disagreed, but then again, good, clean rock'n'roll isn't everyone's bag.
BOOKS
"City of Glass: Douglas Coupland's Vancouver"
Douglas Coupland, Douglas & McIntyre Press, $24.95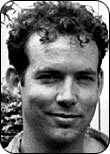 Ordinarily, this space wouldn't extol the virtues of a writer like Douglas Coupland. He's not from here, after all. And this book, a couple of years old, at that, isn't about this region in any way. But here's the gig: this book could (and should) be "creatively adapted" in every city in America. Coupland — known for novels like "Generation X" and "Miss Wyoming" — is a fine writer, entertaining and possessing a remarkable ability to tap the pulse of the moment. In this work, he deconstructs Vancouver in words and text; in addition to the writing, a goodly chunk of the vivid photos in this book are his, too.
Giving you a sense of the "city behind/underneath the city," Coupland travels into all the different places that define his home town, writing short essays that offer you the day-to-day flavors, sounds and moods of the town. He loves his city, but isn't afraid to point out the foibles, too, though he generally does so with his signature light touch. What's most remarkable is that the book holds up so well for someone who's never been to Vancouver. Through Coupland's inventiveness and inherent curiosity, we're given a travel book like few others. Wry. Conversational. Readable. And incisive, for those looking for their civics to be engaging, too.
"Have A Weird Day"
Wm. Stage, Floppinfish Publishing, $9.95
&
"Sidestreets St. Louis"
MM Constantin, Sidestreets Press (out of print)
Newspaper columns can have intrinsic historical value, proven by two books on our recent reading list. One you'll be able to purchase at most bookstores around town; the other will prove a little trickier to find, long out of print.
The one that's new is Wm. Stage's collection of "Mississippi Mud" columns from the Riverfront Times, 62 of which are collected as "Have a Weird Day." It's a book about the odd characters that seem to live here in greater numbers than you might expect in a town this size. It's a book comfortable in the corner tavern (the Hi-Pointe is mentioned three times in the first four stories), the mom-and-pop grocery store, the local laundromat. It's also a book that successfully shines a light on the news and spirit of the day; you'll recall some of these essays from the newspaper headlines of the early-to-mid-'90s. More often, though, you won't find a timestamp on these works. They're funny writings, penned by a longtime (though not native) St. Louisan, one who keeps tabs on the marginal among us.
MM Constantin wrote a column, "Sidestreets," for the St. Louis Magazine of the early 1980s. This book (found in the excellent, idiosyncratic local section of Dunaway Books) finds Constantin touching on a variety of neighborhoods and institutions, like Soulard Market, North Broadway and the University City Loop. In some cases, these pieces could be written today, the area's changing so little. Often, though, you'll be surprised by some of the names and descriptions and hooks, like a sketch of Washington Avenue at the turn of the 1980s, a far different place than the one we know today. With a fair bit of time now passed — some two decades — "Sidestreets" is a fun read, one that'll leave you shaking your head at our City's patterned behavior and smiling at some of the successes. Well worth seeking out in the used bins of our better bookstores.
RECORDINGS
Fred's Variety Group, "Bells and Buzzers"
By instrumentation alone, Fred's Variety Group suggest that they don't need to play the game the same way as the band down the block. You start with the voices, all three of them: Mark Stephens (also of the Highway Matrons), Sherman S. Sherman (who moonlights with the rapidly-tightening Good Griefs) and Sunyatta Marshall, who's featured front-and-center of many of these tracks. Then you figure in the built instruments: Sherman plays a stand-up, acoustic bass; Marshall's on acoustic guitar; and Stephens paints atop the outlines with his electric guitar. Drums, percussion, not there. And, somehow, not really missed.
Combining a love for all types of American roots music — blues, folk, pop — Fred's Variety Group is a band that's not of-the-moment in any way. The trio's collective harmonies are so effective and the playing is consistent, but only in its ability to surprise. At times, things get oddly hectic; on the instrumental breaks of "Hardwood," for example, things become dizzying and noodley, in a jam band kinda way. But, for the overwhelming portion of this, the band's second disc, songs are allowed to stretch and still maintain melody and beauty. It's a unique band, for sure, one that's got a timeless quality. You can almost imagine, six or seven songs in, the three members of Fred's blowing the lid off a Yale coffeehouse in 1967. They evoke that kind of daydreaming and oddball comparisons. The simple ones just don't work.