It's a wonderful reality...doing what it is that you luv to do for a living.
And I get that reality everyday — thinking, building, creating, designing, and existing in my world of fashion, business, and creativity.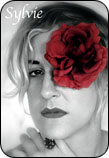 It has taken about five years, my life savings, and loads of personal sacrifices to develop Sylviewear. It starts to become an innate habit, but your creative venture takes precedence in life. The sayings "eat, breathe, sleep" and "blood, sweat, and tears" all have significant meaning to me now. I have given everything I have to make my dream possible.
My dream: to develop a high-profile fashion brand that depicts unique style, soul, and exquisite craftwomanship.
S Y L V I E W E A R, it feels like luv in the making...
Every day starts with a French "un café," a small bit of kitty luving time, and then to work. I check my phone messages, check the status of emails regarding online sales, deal with catalogue inquiries for store sales nationwide, read comments from visitors to my site, and then take care of any other business-related info. This is the time I make my check-off list of things to do for the day.
Days vary depending on projects I need to complete, and every day is committed to the process of getting my products developed and then sold each season to stores and through my website.
The creation of a Sylviewear season's collection
This process happens twice a year for the fall and spring collections.
I can spend a whole day sketching and researching in magazines and online for my upcoming line of accessories and clothing. One of the first decisions entails creating a theme for my collection. (For example: "Femme Fatal 2002. She is courageous, independent and mysterious.") Everything is designed under the theme I choose. I extensively research online the latest designer collections that have just been released for the same season in which I am producing. Here I see what the trends and colours are, and I keep these in mind while developing my own designs. My collection may not have any similarities to the research material I spend hours putting together, but it is greatly inspiring and keeps my designing ideas much better and fresher. (Note: a high-end designer clothing line is designed at least one year in advance of when we see it in stores and on the runway. Because I am an independent designer, I start designing, for example, my spring line in December every year for sales in January.)
My next step is to start shopping online and locally for fabric that will be used for the collection. Working within a limited budget, I see what is affordable, what is available, what goes with my line, and if it is quality material. I develop prototypes of all my designs to see if they work. This involves extensive pattern designing and then construction. I usually have about 30 items in each collection...so that is a lot of work! At this point, some design ideas are dropped from the line if the bag/hat did not meet the "look" I was hoping for, or the materials and production costs were too expensive. Every item has to stay inside a certain cost to produce. The more expensive something is to make, the more a customer has to pay, so sometimes it has to be modified.
Once the collection is determined and all prototypes are made (a long process of construction, altering the pattern, using a different fabric, etc.), everything is tagged with a name, a product number, and an item description, and then photographed at the studio.
Next, a fashion photo shoot is scheduled. The entire collection is photographed on a fashion model with a photographer at a chosen location (like downtown streets, a café, or in a photo studio). The objective is to get images that appeal to the same consumer who reads fashion magazines like Vogue and W. These are the customers I am targeting for sales.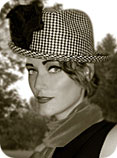 For wholesale boutique sales, I start to put together a sales catalogue that will be sent across the country. This means designing an attractive sales piece with the images of the hats and clothing, so that a storeowner will purchase Sylviewear items. The industry is extremely competitive, and selling by mail is the hardest method, so an eye-catching catalogue is essential! The most successful sales happen when I visit the shop and personally showcase each item as a salesperson. Also, an online wholesale catalogue is in development, with special access to stores only for selling directly from the Internet.
Orders start to come in from direct sales, by phone, or by the website. Through a sales contract agreement, I confirm a deadline date for delivery and start the frenzy of my production process on each order. Depending on sales volumes, I hire outside manufacturers to produce some items; however, many items are still produced in the studio with assistants. Taking orders happens for several weeks. At the same time, I develop the online boutique store with a web developer. So that I can sell directly to consumers too, each season I have my full collection placed on my e-commerce website boutique (www.sylviewear.com).
Store orders get completed and shipped to their destination and the online boutique is launched, ready for the season to begin. Throughout the season, orders come in through the website, along with new store orders and reorders. And, just for fun, the studio is open by appointment for customers interested in custom designs! Sylviewear participates in many seasonal runway and boutique shows, too, for promotion and additional sales. Special events like these — seeing your collection on a runway show after an intense few months of production and sales — provide the most rewarding experience for all the effort and time put into the season of work! These events take a lot of time to prepare for, too.
Right as the season starts for consumers, and items start selling and you are fulfilling order requests, it is now time to shift your focus and start working on the next season of clothing and items. As you can see, it is a never-ending process, and one that keeps you on your toes!
Since I started my business full-time in 1998, my sales have grown to specialty boutiques nationwide, and I began working with a sales representative in Japan for the Fall 2002 season. I am an artist who became a businesswoman. I never imagined that I could do all that I have done.
This has been the most rewarding and most challenging experience of my life. I recommend it to anyone who has a dream.
Sylvie is, by her own description, "an American woman with a French soul, a woman of the 1920s and '30s." Ooh-la-la!