BOOKS
"The Man Who Talks to Dogs: The Story of America's Wild Street Dogs and Their Unlikely Savior"
By Melinda Roth; Foreword by Michael W. Fox; Preface by Tony LaRussa
St. Martin's Press
Buy it at Left Bank Books

Adapting her award-winning Riverfront Times story "Dead Dogs Walking," Melinda Roth tackles the curious story of Randy Grim, a pet grooming shop owner who rather quickly became the area's leading advocate for saving wild dogs. (And, yes, some cats, too.) Spending untold hours with the notoriously publicity-shy Grim, Roth chronicles his process of identifying and ultimately befriending each of the animals that he winds up taking into the Stray Rescue fold.
The stories take place all over the area, but some locales regularly appear. Among them: the Quonset huts near Compton and I-44 (a recurring rave venue); the entire town of Washington Park, IL; the rail yards of East St. Louis; and the isolated, populated pockets along Missouri's riverfront, a favorite place to ditch wounded fighter dogs and their "bait." While Grim maintains a near-daily watch with some of "his" dogs, other missions come on the fly, such as the trip to rescue a house full of abandoned beagles in the exurbs, while joined by a national camera crew.
The book is interspersed with a fair amount of statistical context as well, giving a sense of where St. Louis ranks in comparison to the pet overpopulation problem that's clearly a national one. But it's obviously Randy's story, too — a sort of autobiography, mixed with an organizational profile, a look at the underbelly of a major urban area, and even a streak of adventure yarn.
Both the author and the subject say that some of the more humorous material was cut from the book, giving it a more "serious" feel. That may have been a mistake by the publisher, as Grim has a sly, offbeat sense of humor. And, as it stands, the book often flits from one tracking mission to the next. Adding that hint of humanity may've given the book a few more pages, but also a more heartfelt feel.
Still, that minor quibble shouldn't take away from the intriguing storyline that runs throughout this quick-to-read work. By the end, you feel like you've been riding along the potholed streets of some junk-strewn back alley, with tin cans rolling around your feet and a dog sitting nervously in your lap.
By giving himself up to public scrutiny (again, and on a nationwide basis), Grim's certain to have a done a service to the animals he chooses to protect.
RECORDINGS
"Cleanup in Aisle 3"
The Dead Celebrities
www.thedeadcelebrities.com

Voted the best punk band by readers of the RFT in 2002, this energetic/comedic group recently went through a lineup shift, with bassist Ludwig Van Zandt joining the core of guitarist Elvis Kennedy, drummer John Paul Nixon and singer Sid Sinatra. Featuring quick, often funny takes on the usual subjects, the band's first full-length reprises the material found on a 2001 EP, "The Many Moods of...", including such live favorites as "X-Ray Eyes" (with the infectious, sing-along chorus: "I just/wanna/see you/in your underwear") and the name-checking "Dead Celebrities." If you like your punk with a sense of humor and short, sharp hooks, no need to look outside of St. Louis. And trust me on the underwear lyric: you'll be humming it for days.
SITES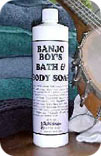 Making music on an "old-time clawhammer-style banjo," Dave Landreth brings together a host of friends and regular cohorts to record nearly 20 tracks on his new CD, "Chairs," from classics of the form to originals that feel just fine amid the chestnuts. What really grabbed us, though, was looking at the web page's last pitch for product. Sure, the site gives you info on how to buy the CD, which is plenty good, don't get us wrong. But the songwriter is also offering his own brand of soap, developed at the one-and-only Cheryl's Herbs. It's called "Banjo Boy's Bath and Body Soap," containing such exotics as nettle leaf, black pepper and clary sage. Can you imagine anything better than a good herbal bath, while listening to classic Americana music? Neither can we.
RADIO
"Super Fun Happy Hour"
KDHX, 88.1 FM
Monday nights/Tuesday mornings, 12-2 a.m.
Featuring tons of live bands, this KDHX staple features a trio of hosts, Tim, Matt and Heather. Together, they spin tracks from the last 30-odd years of loud, fast music. On a near-weekly basis, the show hosts a live band, playing in the station's Studio B. Plans are in the works — and don't quote us on this — for a local music venue to become the home of the live component in the next month, or so. Tune in to find out. And catch the tail end of the show prior, Rene Saller's eclectic "Suffragette City."