St. Louis has a history of standing by its sports teams. Throughout the year, fans proclaim their love for one or more local teams — be they the Cardinals, the Rams, the Blues, one of the local college teams or one of the minor league teams in the county — by attending games clad in their team's logo, ready to root them on to victory.
These teams have one thing in common: they are male-dominated. However, over the past few years, the rise of women's sports has taken hold of much of the country. For example, the Women's National Basketball Association (WNBA) plays in 16 cities throughout the country, while the Women's United Soccer Association (WUSA) plays in eight. One wonders when St. Louis is going to hop on the bandwagon. Well, the time has come.

Meet the St. Louis Quest, part of this country's first indoor professional women's volleyball league. Founded in 1999 by William Kennedy, a Chicago businessman, the United States Professional Volleyball League (USPV) begins its inaugural season this year.
There are three other teams in the league: the Minnesota Chill, the Grand Rapids Force and the Chicago Thunder. Next year, the league plans to expand to ten teams, and plans call for 20 teams by 2005.
As one of the first teams in a new sports league, marketing is extremely important; Quest players arrived here in November after the league announced the four franchises, and offered demonstrations to local schools and volleyball clubs, building a fan base for the coming season.
"Everyone was extremely supportive," says Molly Stark, outside hitter and libero for the Quest. "They were so happy to have a professional team in town, and a women's team at that." Stark is excited about the opportunity to play in St. Louis. "As far as sports are concerned, everyone is supportive and loyal; they're die-hard fans. We hope to get those kinds of fans — who want to have season tickets and are going to pass up Cardinals games. When people see us wear our Quest stuff around, they want to know about us."
Setter Keri Nishimoto echoes Stark's optimism. "The people here are friendly; I know this from asking for directions. They're eager to talk, chat and give me the heads-up about what's going on." Nishimoto continues, "After the game Thursday, it was really fun to meet the kids, parents and the people who were excited to see us play." Quest players prove their dedication to their new-found fans by staying after games to sign autographs and answer questions.
Although the team still has a way to go, attendance has started to climb (attendance at the first match was 1,073, at the second match it was 1,172). Despite the relatively low numbers (other cities had attendances around 2,000), the crowds at both matches were very enthusiastic.
"The game was awesome. It was lots of fun to watch," says Carol Parsonage, a fan at the second match. Parsonage brought her daughter and five friends to the match, and she said she would definitely return.
Terri Bauer, another fan at the match, agrees. "It was awesome. These girls can get up on the net and really spike the ball." Bauer's daughter, Natalie, plays for a select team, the Wentzville Heat, and learned about the Quest through one of their demonstrations.
Ultimately, the most exciting thing about the USPV is not fan attendance or who wins or loses, it's the fact that female athletes have a chance to compete at a professional level after they graduate from college — an opportunity many women never received.
"I played in Europe for six years," says Stark. "That was the biggest frustration for me coming out of college; I didn't have this option. It didn't exist for me. It didn't exist for anyone, really."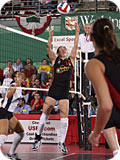 "I just came out of college and I looked at going overseas," says Nishimoto. "It's been something that I looked at for the past few years . . .I wasn't ready to be done (playing volleyball)."
This desire to play bodes well for the USPV, says Quest Head Coach Jeri Estes. According to Estes, there are approximately 400,000 girls playing volleyball in high school and 75,000 women playing at a collegiate level, helping to guarantee a steady stream of players and spectators.
"These ladies are giving these girls something to shoot for," says Greg Teator, a parent watching his daughter work her way through the autograph line after a match. "Female athletics have become more popular — just like basketball," he says.
"The best thing about this is that these women are good role models," says Estes. "Athletes are constantly in a spotlight; you may have someone who is a lawyer or someone who is a good role model but not in the spotlight. These athletes are in the spotlight and they're good role models."
However, this game wasn't only for younger girls or women in general; everyone could enjoy watching the team. "This is good for anyone with an interest in sports — it's very exciting," Teator says.
Estes says that the league is targeting a different demographic than the traditional sports crowd: the "guys who go to baseball games and watch football and the NBA. If they become interested, great!"
Other new sports leagues, like the XFL, failed for several reasons, mainly because they were trying to compete for a highly coveted demographic: male sports fans, says Estes. The USPV won't have that problem. "Our basic fan base is 12 years old and up, both boys and girls," says Estes.
Given the success and growing popularity of other women's sports leagues, the USPV looks as if it's poised for success and to capture a piece of a rapidly-growing market.
"I think it's a great product," says Nishimoto. "It's an exciting sport to watch. The players are great and the level of play is only going to get better. I was talking to some girls (at the first match) and they're dying to see some great volleyball."
Perhaps the USPV can be summed up best by one of its new fans, Alexandria Eubanks, a player for the volleyball team 2Xtreme 13s, who described the recently concluded match: "It was cool."
The St. Louis Quest plays at the Washington University Field House, off of Big Bend and Forsyth. For more information, call 314/725-4240 or go to www.uspv.com.
Brian McCown is a technical writer for GEMS, a Clayton-based software company.