The connection between urban high school students and a deteriorating natural environment may not be obvious to everyone, but the St. Louis EnvironMentors Project is exposing students from Beaumont, Vashon, and Roosevelt High Schools to new ideas concerning the environment, college and career choices, and community involvement.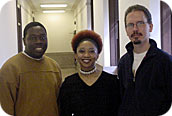 Now beginning its third year in St. Louis, the program is part of an award-winning, national model that matches urban students from under-resourced schools with professional, working adults in one-on-one mentoring relationships. Students and their mentors select an environmental topic, conduct experiments, collect data, conduct interviews, and turn their work into environmental research or community service projects.
Students and mentors meet weekly to develop their projects over the course of the school year. Projects and student/mentor relationships are facilitated and fostered through bimonthly workshops with EnvironMentors Project staff and guest presenters. Workshops cover areas such as topic selection, the scientific method, computer applications, public speaking, and curriculum development; these last two are geared toward preparing students for their teaching experience at local elementary schools.
With help from their mentors, students turn their projects into educational units that highlight key concepts from the research. Just as EnvironMentors students benefit from the example set by their mentors, younger public school children are able to see their older peers advocating for the environment and taking personal responsibility for their own education. Brenda, a sophomore from Vashon High School had this to say about her experience: "My mentor was Sharon S., an environmental health and safety specialist for St. Louis Community College. My project was entitled 'Educate to Motivate.' It was based on the principle that if students were taught to recycle then they would be motivated to recycle. In the program I got to work with actual students and teach them the importance of recycling."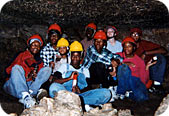 Building on past success and learning from program evaluations completed by mentors and students, this year the program has set its earliest start date so far. On Monday, October 8th students, mentors, parents, teachers, friends and supporters will gather at the Piper Palm House in Tower Grove Park. Having ended the program last spring at that location with the annual Fair and Awards Ceremony, where students and mentors are recognized for their hard work and commitment, it seemed an appropriate place to kick off what organizers hope will be an even bigger year.
The October 8 Orientation '01 will be an opportunity for interested individuals to gather for an evening of fun, learning, sharing and reflection. EnvironMentors Project staff and current students and mentors will talk about the upcoming program year, past projects and experiences, the program schedule and ways people can volunteer. Adults interested in mentoring should plan to attend Orientation '01 where they can complete a mentor application. If you want to learn more about the program visit the St. Louis page of www.environmentors.org where you can also apply on-line. You can also call Peter Franzen at 314-771-9593.
Peter Franzen is the program manager for the St. Louis EnvironMentors Project.