For a city that was once described as a sleepy little fishing town, the fish have started biting. In recent years, voters have approved more than $135 million of capital improvements projects including a multi-purpose arena, seawall repairs, and minor league baseball stadium. In June, the city was even selected as one of only ten All America Cities by the National Civic League.
But now city leaders must decide what to do with the Bayfront, or as it is commonly referred to, "The Crown Jewel of Corpus Christi." There are those who feel that the jewel should be left alone to be admired as it is. And then there are those who feel that the jewel needs lots of cutting and polishing before it will truly shine.
Background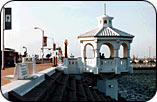 What city leaders do know is that the marina on the city's Bayfront needs repair. Acid-like corrosion caused by the fine salt mist has eaten away at the steel and concrete bulkheads that line the slips, hundreds of pilings have rotted from the inside out, and some of the wood-plank piers used by shrimpers were condemned because they were too dangerous. Gaping holes scar the sidewalks that line the waterfront, broken electrical conduits dangle just inches from the water's edge, and the channel that once allowed passage of boats drawing up to 14 feet has silted to half that depth.
One city official said that what was left of the marina was so shoddy that it should be an embarrassment to boaters and the city. Long considered the highlight of the downtown bayfront, the marina had become a black eye to some residents.
But Corpus Christi faced the same problem that many cities face: a failing infrastructure, a downtown blighted by neglect (and a desire to turn the neighborhood into a thriving tourist destination), but no money to address the problems. City Council members rejected the idea of improvement bonds for the marina because they figured voters wouldn't want to sink citywide money into the project. Boaters balked at the idea of having to pay more in slip fees. So the city decided to go the route of privatization, soliciting ideas from developers about how to turn the marina into a destination location.
Negotiations Begin
After a month-long debate and hearings before city advisory boards, the council chose to open negotiations with Landry's Restaurants, Inc., the nation's second-largest seafood restaurant chain, based out of Houston, just three hours to the north. Along the Texas coast, Landry's has established a mini-empire of themed restaurants. In Kemah, Texas, just 30 minutes south of Houston, the company has invested $75 million in a 30-acre boardwalk, complete with amusement rides, restaurants, water fountains, a mini-train and a boutique hotel. In Galveston, just another 30 minutes south of Houston, the company has bought up stretches of the island's waterfront for hotels and restaurants and is in the process of buying the Flagship Hotel, which sits on a pier over the Gulf of Mexico.
For city officials the opportunity was one that could not be passed up: a national, publicly traded company standing at their door ready to invest $20 million in new restaurants and amusement rides in an area that had had not seen investment since the 1940s. For some residents, especially those with boats in the marina, the proposal was one to walk away from: theme restaurants owned by an outside corporate giant that wanted to scar the bayfront with a "carnival atmosphere." Other residents felt it was a dream come true. With this development, they felt a thriving downtown and a rejuvenated economy were finally within reach.
For twenty agonizing months, the negotiations between the city and Landry's literally divided the community in two. Talks were even halted temporarily while a charter amendment touted by opposition groups was placed on the ballot. The amendment failed by a narrow margin, and negotiations began again. Differences of opinion strained business relationships and friendships as emotions began to intensify. The divide was taking its toll on the community.
To Be or Not to Be
Finally, word came in mid-summer that a Memorandum of Understanding (MOU) had been completed. This document would be reviewed by city boards and commissions and debated at length in public hearings, with a final vote of the city council to take place on September 23.
Again, the community was divided. Some boards and community members supported the development; others were adamantly opposed. Desperate measures were needed, and the city's mayor attempted to negotiate directly with Landry's CEO, Tilman Fertitta. A communication breakdown ensued and talks were called off. Both parties finally agreed that an acceptable deal could not be reached. And within a matter of days, it was over.
The proposal that had been so intensely debated for years was not to be.
Where do we go from here?
While city leaders may agree that the Landry's development is no longer an option, they have agreed on little else. For now, a group of downtown stakeholders is developing a revised master plan to address many of the issues surrounding bayfront development. Critics of the Landry's negotiations say the city must have public support for any kind of development. And the city's success in other areas seems to support that argument. In November 2000, voters approved the city's first bond package in 14 years, allocating money to the construction of a new downtown arena, the expansion of the convention center and repairs to the protective seawall. The bond projects were pushed by a community grassroots group, Forward Corpus Christi. One of the organizers of the campaign said that the key to success was the community involvement. However, that campaign faced little opposition. Only time will tell if the same strategy will be successful in developing the marina, an issue where camps on all sides have dug in and prepared for battle.
For now, the city's crown jewel is still at a crossroads.
Neal Falgoust is a reporter with the Corpus Christi Caller-Times responsible for covering city politics and special projects. Kendra Kinnison, MBA, CPA, co-founded and manages Ensemble Group, a business consulting firm in Corpus Christi, Texas. Both are active in Corpus Christi FOCUS, a recently formed non-profit organization dedicated to improving the quality of life in Corpus Christi by uniting diverse members of our community and utilizing creative approaches to solve urban problems.