Of late, Baton Rouge has received a lot of negative press — homegrown and imported — that has sullied our reputation. Don't let all those CNN stories fool you: Baton Rouge is a city on the verge. It's a place where everyday folks are increasingly talking about concepts like "smart growth" and preserving wetlands with an authentic, newfound sense of wonder. There is a tremendous commitment to growth and change, evidenced by the presence of Forum 35, an organization of young professionals that is helping to lead the charge.

If you visit, be careful about lingering too long . . . Baton Rouge works its way into your blood, and, love it or hate it (it depends on the day), you can't shake it loose. Stick around for much time and you'll soon crave the sight of camellias blossoming in the dead of winter, the sound of boats chugging down the river behind the levee, and the smell of deep-fried everything. People smile here. They say "howdy" and "gee, you have a nice smile." It's the sort of town where, when you call up your credit card company to change your mailing address, you have to spell your new street name real slow because it's from a foreign language. Neighbors mow your lawn for you on the first day you move into your house, and another guy with a nickname derived from a wild animal lives next door. A woman in a big, wide SUV might even pull up alongside you while you are out walking after dusk because she feels compelled to warn you about a friendly skunk.
In short, you'll never lack for something weird and wonderful to report in your annual holiday letter. Trust me.

Baton Rouge is the capital of a state best known for Mardi Gras, crawfish boils, a rowdy political history, and the ability to pack a football stadium on Friday night like lives depend on it. (Perhaps this explains why a new pigskin-oriented cable channel is setting up shop down on Florida Boulevard?) Flying down I-10, it's easy to overlook the city's charms in hot pursuit of the glitz and debauchery just an hour or two down the road in N'awlins. But tucked just beyond the ramps and exits that greet travelers, you'll find distinctive neighborhoods with European, Acadian and antebellum architectural references and tree-lined streets.
At the heart of the city lies downtown, an area in the midst of a renaissance. Snugly situated beside the river and bordered by highways to the south and east and grounds of the state capital to the north, downtown Red Stick is home to an increasingly active nightlife (try Tabby's or Swamp Mama's), a brand new farmers' market forged on the first floor of a surprisingly attractive parking garage (Main Street Market), and an ever-expanding assortment of restaurants. Mortorano's, an Italian restaurant open primarily for lunch, is a personal favorite. Be sure to try the meatballs!
When prompted to prove a renaissance is underway, city leaders point to a brand-new, state-of-the-art planetarium attached to the Louisiana Arts & Science Museum. Conveniently situated across the street from a refurbished convention center, next door to the USS Kidd, and down the block from one of two casinos, the Irene Pennington Planetarium promises to be a major player on an already busy intersection. Under construction nearby is a multi-million dollar arts complex, the Shaw Center, which will feature a theatre, a museum, galleries and several dining options. A new riverfront center is being planned to serve as a landing point for steamboats and other watercraft bearing people from near and far who long to play Huck Finn — but with access to a working toilet and a snack bar.
Yada, yada, yada. We Baton Rougeans can go on and on about what can, should and will come here next. And don't get a native resident started on what was once here but went away. For that real taste of Baton Rouge, the kind of experience that you can't find outlined in any guidebook, you gotta go where the people are, not where they will be.
For this newcomer, the real scene is a bit further underground, off the charted course. And it involves food — Tony's Seafood in particular. North of town, not too far below the surprisingly clean and efficient airport, is where you'll find Tony's. In the parking lot, you'll find brand new Jags parked next to Chevy Corsicas that look like they've just been fished out of the river following a bad flood. The customers are a study in contrast: black/white, rich/poor, straight/gay, PhD/GED. It's all one big independent film waiting to be caught on tape. (Perhaps Baton Rouge native and acclaimed director Stephen Soderbergh will take that as a nudge?) You can buy a bag of wet, cold shrimp or purchase deep-fried catfish, ready to eat. There're no tables — it's strictly grab and go.
If table service is a mealtime necessity, remember that, in addition to the famed Cajun and Creole influences, Baton Rouge is home to several Greek/Lebanese restaurants. Albasha on Corporate Boulevard is a fine choice, but Atcha's on Nicholson Drive offers up hummus for less in a more down-home venue. Just don't let the misspelled "Fefa Cheese" sign out front fool you into thinking that the cook is clueless. Cramped for time and craving chicken? Raising Cane's is a local chain sporting a narrow menu (chicken tenders, coleslaw, toast and fries) and a happenin' attitude that is destined for national fame. My youngest nephew plans his travel time on cross-country trips from Texas to Alabama around Raising Cane's hours of operation.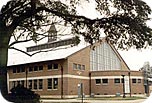 Tanked up on fried food or baklava, it's worth your while to explore either one or both of the two major college campuses that call Baton Rouge home: Louisiana State University or Southern University. Both are flagship institutions — the latter is a historically black campus. Both have gained new leadership in recent years, and, to the credit of each chancellor, a new emphasis is placed on the visual and performing arts in a land where football is the one, true king. Southern's campus, just north of downtown, has a fabulous art museum, the Southern University Museum of Art, with a tremendous collection of African and African-American art. LSU, which is just south of downtown, is preparing to move the LSU Museum of Art to the Shaw Center. LSU is also home to a professional Equity theatre company, Swine Palace Productions. Housed in the Reilly Theatre, an imaginative performance space fashioned from a historic livestock pavilion, Swine Palace offers three full-scale, professional productions each year.

Taking in the arts scene is a great way to cool off in Baton Rouge. The humidity is almost constant. When a stroll is in order and the weather is nice, remember that near LSU is an astoundingly beautiful collection of lakes, bordered by breathtaking and charming homes alike. It's the perfect place to stretch the legs and take in the sights. In the winter, those great big birds you'll see are pelicans that find Baton Rouge the perfect place to sit and wait for warmer weather to return. It is no coincidence that the state bird is a pelican; like the elected officials who wander into Baton Rouge for a few weeks every so often, the birds make an appearance and then split at the first opportunity. They are fascinating to watch (the birds, I mean).
Down here, you can't escape the fact that you're smack down in the Deep South. The sweet tea alone is a prime indicator, as is the assortment of plantation homes open for tours. Once the initial queasiness subsides and you start to see the experience of touring one of these sites as an opportunity to stare down the sins of our past, a visit to one of the homes can be interesting. Magnolia Mound in particular is good about offering up affordable, informative tours. If you're in town near Halloween, check out their reenactments of funerary rituals from the eighteen and nineteenth centuries. Further afield, in nearby Gonzales, on the grounds of the Tezcucco Plantation, is the River Road African American History Museum. Created by a former IBM employee who felt compelled to move back to the area from the other L.A., the small museum is as important a contribution to the state's cultural scene as any big city mega-facility.
As you can see, there's more to Baton Rouge and its environs than the mainstream media would have you believe. Our city is, if anything, resilient. And those of us who have found our niche in Red Stick are content to wait until the rest of the world figures out the truth — that 30 million CNN viewers can be wrong: something IS happening in Baton Rouge. And most of it is wonderful.
Pamela Price is a freelance writer and consultant in Baton Rouge, Louisiana.