...No city can be saved unless it is loved.
It can be cherished from afar and helped from afar,
but it can only be preserved by people
who love it from the inside.
—Anthony M. Tung, Preserving the World's Great Cities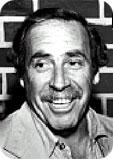 Few people in Saint Louis have not at least heard of the late Leon Strauss. Some will say he, with the enthusiastic support, love and guidance of his wife Mary, was the developer who resurrected the Fox Theatre. Others will say he rehabilitated and added housing in the DeBaliviere Place section of the Central West End. Newcomers to Saint Louis or younger individuals may never have heard of him, though they may have inadvertently seen examples of his work. Thirty years to many in this city would seem an eternity, yet thirty years is just enough time to forget that these places were once abandoned or crumbling shells and weed-filled wastelands — testaments to the urban war that was the product of redlining and blockbusting. During the course of those thirty years, Leon Strauss led the way in turning the tide against these government sponsored actions, even when others questioned him. Beginning with the founding of Pantheon Corporation, and until his death in 1999, Leon Strauss was intensely active in working to improve numerous blighted and run-down areas, and today we find many concrete examples of his work throughout the City. Not all were ultimate successes, but neither were there any ultimate failures. When pioneering a path and charting a course through untested waters, certainly, mistakes will be made. But, through a critical examination of his built contribution, one may draw out values for our architectural heritage, our urban fabric, and the human experience that could serve as guides in our effort to continue to rebuild our fair city — values that may strengthen our determination, even when despair sets in and the task seems overwhelming. Leon Strauss did not just see a deteriorated building or a trash-strewn lot. He saw possibility. Yes, his was a "vision," that precious and rare sort of leadership for which the world is always the better, though it is not always appreciated and rarely fully understood.
Leon Strauss' vision was based on a profound appreciation for the City's fine architecture and building heritage. He recognized the immense value and irreplaceable character inherent in these buildings, even when most of his colleagues and contemporaries avoided (and in most cases still avoid) the challenges and pitfalls always associated with re-utilizing older buildings. He would love to see the growing Washington Avenue loft district today, an area of visual delight through which he would walk, always looking up and around, enough so that he said he would always develop a kink in his neck. While renovating the district's neglected Lammert Building and Lennox Hotel, he praised the street as a symphony of form, texture, and color. He loved the City and lived in it most of his life, and it was here that he felt most rooted and where he felt he most belonged, and it was the architecture of this city that he recognized as being possibly the single most important factor in making Saint Louis a "Place;" something unlike that seen anywhere else in the nation or in the world. Once called the "Paris of the Midwest," Saint Louis was often seen as the greatest city between New York and San Francisco, yet with the graceful repose of a Charleston or Savannah. Destroyed by fire and afflicted by cholera outbreaks, the builders of nineteenth century Saint Louis learned their lessons from these unfortunate events, and revised the clapboard architecture of the city into a system of brick buildings that circulated fresh air at all times, even in the still, humid days of mid-summer. Leon Strauss respected this heritage of evolution, and he was saddened to see his contemporaries whoring the city, pandering to franchise and sports interests, and tearing down great buildings for the sake of constructing parking structures. From his hospital room near the end of his life, he watched the demolition of the Arena. It pained him to see this, for as he said of the development of the project that would succeed it, "all we end up doing is shifting one tenant from one place in the City to another just to keep them in the City, thus adding no significant value." If we could see what he saw, we too would arrive at the understanding that the retention of our heritage means the retention of the feeling of Place, and the history and character of architectural and cultural evolution. At times when we are stymied by delicate issues in which the collective memory of the general public may be insulted, we could, with this knowledge, opt to solve our problems creatively instead of ignoring the issue in order to secure guaranteed instant profit.
Second, at the center of the impetus behind his development of new infill projects was an appreciation for the fabric of a neighborhood. Throughout his many developments there is a pleasing respect for the scale of the project in relation to the surrounding context. When he introduced new infill buildings, such as in DeBaliviere Place, they blended in scale and proportion to what was already there. Always there was a balance and healthy sense of repose. He once lamented how some of his projects did not do enough to support this fabric and how if he were starting over, he would have done things differently. He regretted using vinyl siding and felt that it had no place in an urban setting of substantial brick/ masonry homes. Exteriors, he believed, should be veneered in brick, a combination of brick and stucco, or just stucco. Certain uses of stone were applicable if executed well, however the use of any other type of siding would be a grave mistake. He saw possibilities for cedar shingles and other wood elements, but only as fine accents. Cornices and visible roofs were necessary to create a continuity of scale along the street wall. Tiny unusable front porches irritated him, as they were merely symbolic appliqués. He repeatedly emphasized the desire to see more homes with broad porches and verandahs, "on which I can sit back in a comfortable lounge chair and enjoy a good rain or snow without getting wet." Leon Strauss visualized Saint Louisans ideally living in homes that featured side entrances, preferably with generous and inviting entry verandahs and doorways. He relished the idea of being pulled into a narrow garden from the front of the house and he saw great potential in these normally unused interstitial spaces for the creation of unique and intimate venues for activity. And he believed that when we as Saint Louisans did landscape, we did so too timidly: gardens should be rich and lush, even when the spaces allotted for them are small. He often referred to turn-of-the-century Lennox Place in the Central West End as a splendid example of dense housing and luxuriant landscaping where, when walking along the sidewalk, one would feel as though he or she was walking through a forest. He felt that, despite the proximity of the neighboring homes, Lennox Place presented more of a natural rural aura than any subdivision on the far edges of the suburban fringe. If we could see what he saw, perhaps our landscape would not look like the scorched earth of a battlefield. Perhaps our architecture would defiantly propel us into the twenty-first century, instead of suspending us in a celluloid mis-characterization of the nineteenth.
Third, Leon appreciated the timeless tradition of a human/ pedestrian scale, and he was determined to incorporate the elements that older neighborhoods throughout the City had almost always featured, mandating elements such as: small pocket parks to add value to every block, lushly shaded streets which also served as informal neighborhood gathering areas, semi-restricted districts to slow traffic and provide added safety for children, entry portals to give an area distinction and the graceful aura of presence, and an over-abundance of landscaping providing an intimacy that makes walking and sauntering about a pleasure. Sidewalks take on the role of inviting and friendly forums for activity in which one feels engaged and part of the scene. He carried these older ideas further still, and incorporated with them other sometimes more progressive or newer elements such as: screened off-street parking, attractive public access spaces and community recreation facilities, and sidewalk benches. In this, whether you were sitting, standing, walking, talking, or napping in the grass, you were and are always engaged on an intimate level with the neighborhood and world around you. You know where you are, and why it is important that you are there. East of Theresa Avenue at Samuel Shepard Drive, across from the Stockton House, sits a pocket park that is probably one of Leon Strauss' least known contributions to the City, and yet one of the clearest expressions of how something simple crafted at the pedestrian scale can greatly contribute to the environment. He funded and directed the installation of tree wells to be created in the sidewalks, and provided the guidance in the organization of this tiny urban jewel that today provides enjoyment, shade, and a haven of rest to everyone from patrons of the Grand Center cultural district to those in the soup kitchen line at Father Dempsey's Charities on Washington Avenue. If we can see the world on a human scale, as opposed to on the inflated monumental scale of self-idolatry, we may find within ourselves who we truly are, as well as how we are to relate to our brothers and sisters. We may find the common ground to grow beyond the inequities of our civic adolescence.
Finally, Leon functioned with the right brain ability to see romantically beyond the ordinary, yet he balanced this approach to business, planning, and life with an appreciation for sound economic practices and receptiveness to innovation. Projects were designed to fit the scale and context, but also the market of their particular area, in order to not stand out as self-conscious monuments to an era of otherwise depressing blandness, as well as to not drastically gentrify a neighborhood through an imbalance in property values. He romanticized how we relate to buildings and how buildings relate to their settings, but he did so in a way that was always feasible. His head was in the clouds, yet his feet were securely grounded to the earth. He insisted that buildings in the City should set themselves apart in their qualities from their suburban counterparts: they should market themselves. Traditional amenities such as distinctive entries with staircases and art glass windows should remain as standards. It is because of elements like these in suburban houses that people felt comforted in deciding to leave the city of their roots in the first place. Comfort was what drew people from the city, but innovation would be what would draw them back. He believed that most contemporary (primarily suburban) housing was becoming too large, cavernous, and wasteful, and he directed his focus against that grain, creating environments of intimate, comfortable spaces and quality materials. He re-envisioned the floor plan for modern living, eliminating the insignificant. Instead of living rooms, which he found "were overrated and rarely used," he described an intimate library as being more appropriate. A formal dining room was a waste of space and material, and therefore the focus should be on a generous kitchen with an adjacent dining area and a comfortable family/ entertainment room. Only by restructuring the housing stock to meet modern needs would the city once again attract creative residents and the spirit of community.
Obviously, we cannot imitate the complex models and ways in which Leon Strauss and his Pantheon Corporation accomplished their goals. Times have changed. The tax rules and economic equations are no longer the same. Changes to the tax code in 1986 insured that the equations used in funding redevelopment projects would never be the same, as federal tax credits for historic preservation have been indefinitely abolished. This change in our national tax code brought an abrupt halt to over ten years of impressive redevelopment that had until then made it possible for some of our finest examples of historic architecture to be restored and reutilized. Thereafter, until tax changes on a state level restored most of these incentives, very little was undertaken on any significant level. From leading the nation in historic preservation and restoration in the 1980s, Saint Louis became a backwater in the 1990s. No, we cannot imitate Leon, just as we cannot imitate the architecture of Saint Louis' nineteenth century past. Yet the essential principles behind his work and the traditional buildings he admired are as, if not more, important today. For today we are faced with the anxiety and urgency of a burning question: at this great turning point, do we wish to live in a barren plastic world of sameness, utter destruction, and exploitation, or one of originality and beauty? If Saint Louis wishes to compete on an even slate with our surrounding suburbs and municipalities in attracting residents and business back into our city, we must market its most positive aspects, including: a unique architectural environment of finely crafted historic and new building stock, a cohesive and integrated network of roads and infrastructures, and a wonderful inter-relationship between the surviving urban fabric and neighborhood social structures.
In summary, Leon Strauss' approach to redevelopment in the urban core was to make the city a more desirable and attractive place to live and work by combining and building upon the foundations of our existing fabric and legacy, complementing it with compatible and innovative solutions for infill with all of the modern conveniences and amenities, and to do both with a constant respect for the human scale and the pedestrian perspective. To us these basic principles should be our "Redevelopment Bible for the City of Saint Louis." The application of these principles is as viable, sound and practical today as when Leon Strauss first applied them in his work. Perhaps more, for today, in our fast-paced lifestyles, we need that link to our history and to a sense of community and scale lost in most developments. As we proceed to move forward in a new century, facing yet new challenges and opportunities, and with so many development and redevelopment projects currently underway or in various stages of planning, it would behoove us to look back upon the fine example this extraordinary man has left us. Leon Strauss' vision of modern urban living in Saint Louis probably is what many of us idealize and dream about: a city of racially and economically integrated neighborhoods, effective public transportation, a vibrant downtown, healthy commercial enclaves, a lively arts and entertainment district, elegant public parks, and a productive public/ private school system. But unlike many of us who only dream the dream, he struggled to make it a reality — one building at a time, one block at a time, increment by increment. He laid the groundwork for the great task that lies before us. And now it is up to those of us who love this city to involve ourselves with heart on sleeve, head in the clouds, and feet solidly planted in reality, and endeavor to do our part to make our contribution whatever and however we can. It is up to us to make our city either beautiful or ugly. Shall we develop the vision of a heaven on earth, or shall we linger in the hell of a suspended state of decay?

David Laslie and Frederick Medler are designers and owners of Urban Design Forum, a small city-based design company specializing in fine architecture, master planning, and landscape design. For more information, call 314.533.7458 x3, or email us at stocktonhouse@sbcglobal.net.