Word Up
using poetry to explore a historic St. Louis neighborhood
via bicycling or walking
May 13 - August 2006
Enjoy the Langston Hughes poem Fulfilment by walking the one-mile poetry loop. See the map of the route below.
Come back for special programming in the neighborhood: a multimedia presentation in the 14th Street pedestrian mall; poetry readings; bike rides for kids and adults. Check www.thecommonspace.org for updates.
Word Up is a project using poetry as a means to encourage people to explore a historic St. Louis neighborhood and the Riverfront Trail via bicycling or walking. The "word up" part is literal — large banners, displaying lines of a Langston Hughes poem, hang on houses and businesses. Visitors are encouraged to bike or walk through Old North St. Louis to read all of the banners, which will reveal the full poem.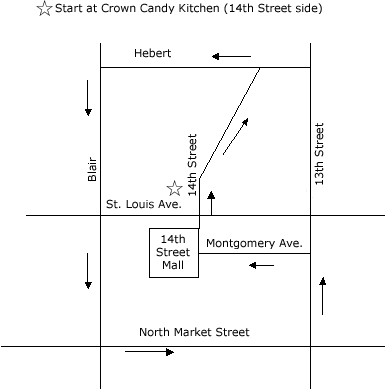 Special thanks to The William A. Kerr Foundation; Joe Floresca and the students in his Wayfinding/Environmental Design class at Webster University; Old North St. Louis Restoration Group; The Composing Room; Stepping Into the Light Ministries; VLAA; and KDHX - FM 88.1. Word Up is a project of The Commonspace.